Woolworths gift card scam emails
WA ScamNet has received reports of emails claiming to be from Woolworths offering $50-$500 gift cards.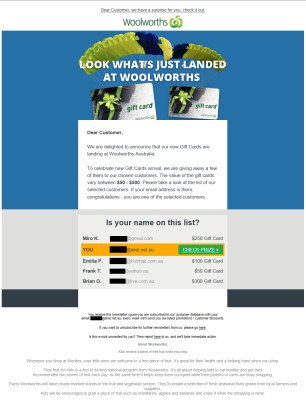 The email announces the arrival of new gift cards, which they are giving away to a few chosen customers and YOU are one of them. You will see your email address in the list of lucky winners with a link to CHECK PRIZE.
The scammers attempt to entice the recipient to interact with the email via offering prizes for clicking on the link.
Be aware that once you click on one of the links you could be redirected to a phishing site, where they will ask for your personal details so they can carry out fraudulent activities, such as using your credit cards and stealing money, or malicious software (malware) may be downloaded onto your computer.
Do not click on any links or attachments in the email. All links in the email, including the unsubscribe and report the email links, send you to a website containing malware.
Anyone who has received the email should mark it as spam and delete immediately.
This scam has been reported to Woolworths. The company has information about scams on its website at www.woolworths.com.au/shop/discover/about-us/scam-alert
Woolworths reminds shoppers that they will never:
Email or call you to ask for personal or financial information including password, credit card details or account information
Send you an email asking you to click on an attachment
Email you to reconfirm your physical mailing address by clicking on a link
Call or email you out of the blue to request payment
The Australian retailer encourages shoppers to report any suspicious activity to the Woolworths "hoax" inbox.