McDonald's Paid Survey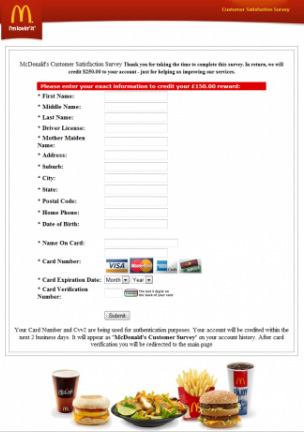 An email from the famous McDonald's restaurant chain and the promise of some cash for completing a simple customer survey – it's no wonder consumers are falling for this scam.
But don't be fooled! Crooks are behind this email, fraudulently using the McDonald's brand to trick consumers into giving them both money and personal details.
One Western Australian consumer has reported he's been taken in by the scam, and lost $1,300 from his credit card.
The scam email claims to be from the McDonald's food chain, and asks consumers to take part in a Customer Satisfaction survey to help McDonald's improve the quality of their food and service.
Recipients are referred to a website to complete the survey.
Well, who doesn't want to help Macca's with their burgers! The problem is that both the email and the website are bogus, and McDonald's has nothing to do with them.
It's a scam to get personal and financial information from email recipients.
The scammer offers a bonus payment for completing the quick seven question survey. The bogus survey is followed by a request for the consumer to enter their credit card details, including the card verification number.
Unfortunately, it is this number – found on the reverse of the card – that enables the scammer to debit money from the account, rather than transferring the bonus payment to it.
Recipients of the email are also asked to provide a copy of their identification if they want to be entered into a secondary draw to win free food from the restaurant chain. This can later be used by the scammer for identity theft.
There are tell tale signs that the survey and website are not legitimate, with numerous spelling errors throughout the survey, and fuzzy images.
WA ScamNet is not alone in issuing this warning. The Australian Competition and Consumer Commission (ACCC) has also released a ScamWatch alert about these emails, and McDonald's has placed a warning on both its Australian website and its global website.
One website has called it a 'super size fraud – Fillet O'Phish'!
Consumer Protection has had reports of similar emails asking recipients to complete surveys, and using the names of the Commonwealth Bank and Mastercard.
Consumers should be on the look out for these bogus emails, as scam emails are sure use other well known brand names to try to defraud you in the future.
Drive through scam warning