September 2020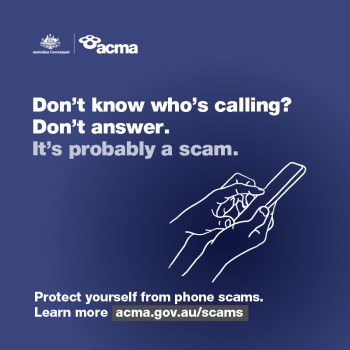 Australians reported more than 69,000 reports of phone scams in 2019, with a total of more than $32 million in losses. Phone scams are the most prevalent of all scam types.
Common phone scams include:
It may be a scam if:
You're asked for personal information or money.
Text messages tell you to urgently click a link or call a number.
SMSs with dodgy spelling, strange looking links or unusual sender names.
The call or text pretends to be from someone you trust, like your phone company or bank.
You're being threatened or made to feel scared.
The caller wants to access and control your computer.
You are asked to help catch a scammer – this is a scam, see the Catch the scammer scams page.
How to protect yourself:
Don't answer if you don't know who it is. Let the call go to voicemail and if possible only have your first name on your recorded message to limit scammer's access to information about you.
If a caller leaves a message claiming to be from known organisation cross check the number the call came from against the organisation's official website.
Search for official numbers via a trusted source, such as theWhite or Yellow Pages, and call back using the official number rather than the one that called you.
Never share any personal information about yourself or your bank details.
Never let a stranger take control of your computer.
Don't click on any links.
Do not send any money.
Block calls on your mobile phone. You can do an internet search for how to block calls on your particular device or ask a family member or friend for assistance. Your phone company can tell you how to block calls to your home phone.
If you have been scammed:
Immediately contact your bank to advise them that you may have been scammed if you have provided your financial or account details in response to the call or text.
Contact your phone company as your account may have been compromised.
Contact IDCARE if you believe your identity has been compromised and they will provide assistance.
Call WA ScamNet on 1300 304 054 or complete the Report a scam form online.
If the scam involves a well-known brand or business, contact them and let them know they are being impersonated so that they can warn other customers.
Tell your friends and family about phone scams so they know what to be on the lookout for if they are targeted.
More information can be found at - www.acma.gov.au/phone-scams