WA ScamNet has recently seen a rise in reports of attempts to blackmail people using compromising images that have been taken of them after scammers made contact using dating websites or social networking sites like Facebook.
The scammers ask to be added to friends or family contact lists. This them gives them access to email addresses or social media account details of the victim's friends and relatives.
After building up a friendly or romantic rapport with the victim, the scammers then move the conversation to video chat such as Skype and, if it's a romance scam then the victim may see a scantily clad man or woman. Often, the scammers broadcast images or footage of a person who does not know their identity is being used in the scam and for this reason, the corresponding conversation may be via text chat.
The scammers then convince the victim to strip or act in a sexual manner and record the footage. With teenagers, the videos may involve the person bearing their soul or discussing sensitive issues such as sexuality.
Next comes the blackmail, with a request made for money to prevent the images being released publicly on a video sharing website and/or being sent to the victim's family and friends via social media or email.
The emotional toll on the victims can be immense due to fear of embarrassment. A recent story on SBS News included an interview with a victim of a similar scam.
If you are blackmailed then contact WA ScamNet on 1300 30 40 54 to seek help and you can stay completely anonymous if you wish. Don't panic if a video is uploaded - reporting it to YouTube or the sharing website is easy and it will be taken down very quickly.
Prevention is better than cure. If you meet someone online avoid letting them have intimate photos or videos. Even if they are not a scammer, there are still risks. Read more at www.esafety.gov.au
eSafety also have plenty of advice on their Deal with sextorition page including looking for the red flags, what you can do and who to safeguard against it in future. They can also help you with the removal of intimate images and content, you will need to make a report to the eSafety Commissioner.
Here are our top 10 tips to fight back if online scammers try to blackmail you:
Do not pay. Those who have paid report that the scammers came back the next day with demands for even more money.
Make a note of the scammer's details so they can be reported in order to help protect others. Skype name, Facebook URL, any photos that were sent and providing the details that you have been given about where to send the money will also be useful.
Report their profiles to the sites you met them on or that they are using to contact you.
Remove the video if it is uploaded to a sharing website. This is very easy to do. Most scammers use YouTube to upload videos, but the steps will be similar no matter where it ends up. The video needs to be flagged as inappropriate. To do this, click on the flag icon below and to the right of the video. After that, select "sexual content", "graphic sexual activity" or "nudity" as the reason. Once the video has been reported, it's usually deleted in the space of a few minutes. From our experience the scammers cannot risk keeping evidence of their scam, so once the video has been deleted, no more instances of it turn up.
To ensure you can act fast if the video does reappear, do a Google search of your name. Scammers will use "John Smith masturbating", "Fred Bloggs scandal" or some similar phrase in their video title, so the search needs to be for your full name. You do this by putting it into "speech marks". Searching for Joe Bloggs will give you every Joe and every Bloggs, but searching for "Joe Bloggs" will only give you the hits on your full name. If you find your video elsewhere, report it and it will be removed
Set up a Google alert by going to www.google.com/alerts. Use your name as the search query and video as the result type. Let it tell you "as-it-happens" and select "all results". Enter your email address and then click the "create alert" button. Now, if any videos with your name appear, Google will email you to tell you about it. As we said before, it's highly unlikely it will appear, but it's better to be safe than sorry. If you don't get any emails, then that's good news. It means nothing has been posted.
Now you need to block the scammer. If you have them on your Skype list, right click their name in your contacts list and click on "block this person". If they're on your Facebook friends list, then you need to delete and block them there too. Click on your name at the top of the page, then on "Friends" to see your friends list. Hover over the button with a tick and the word "Friends" in it and some new options will pop up. Click on "Report/Block", then choose the option to block them.
We recommend at this point that you deactivate your account for two weeks. This will make the scammer think you've panicked and deleted your account. To do this, click on the account menu at the top, right hand of the screen. It's an icon that looks like a cog. Select "Account Settings", then on "Security". Now you need to click on "Deactivate your account". This doesn't delete your account; it merely makes it appear deleted. Make up an excuse to tell your friends why you're offline – you're applying for jobs and don't want your profile found by a new employer, that sort of thing.
Once the two weeks are up, then you can reactivate it and nothing will be lost. Be absolutely sure your scammer is not in your friends list. After this, we recommend you change your username and profile photo as this prevents the scammer from finding you again. The username change will change the URL of your page. Do not add anyone you don't already know to your friends list, and change your security setting so non friends cannot see your profile. These are extra steps we advise to keep you safe.
Did the scammer get your phone number or email address? Be sure to block them there too. Don't answer the phone to anyone whose number you don't recognise and be very wary of opening any emails. To be extra secure, you could make a new email address, send it to those you want to keep in contact with and abandon the old one. If you didn't provide your phone number or email address, ask yourself how easy it would be to work out your contract details from your profile page or any information about you that is online. Odds are, they won't do that much work, but it's worth thinking about.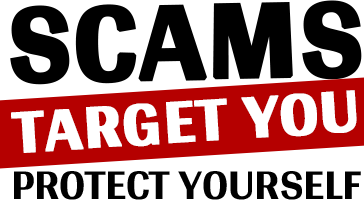 If you would like to be alerted of the latest scams in WA, please add your name and email address in the boxes below and click the red button to subscribe: