Phishing scams are attempts by scammers to trick you into giving out personal information such as your bank account numbers, passwords and credit card numbers.
How does this scam work?
A scammer contacts you out of the blue pretending to be from a legitimate business such as a bank, telephone or internet service provider. You may be contacted by email, social media, phone call, or text message.
Clues for spotting a fake email
The scammer asks you to provide or confirm your personal details. For example, the scammer may say that the bank or organisation is verifying customer records due to a technical error that wiped out customer data. Or, they may ask you to fill out a customer survey and offer a prize for participating.
Alternatively, the scammer may alert you to 'unauthorised or suspicious activity on your account'. You might be told that a large purchase has been made in a foreign country and asked if you authorised the payment. If you reply that you didn't, the scammer will ask you to confirm your credit card or bank details so the 'bank' can investigate. In some cases the scammer may already have your credit card number and ask you to confirm your identity by quoting the 3 or 4 digit security code printed on the card.
Phishing messages are designed to look genuine, and often copy the format used by the organisation the scammer is pretending to represent, including their branding and logo. They will take you to a fake website that looks like the real deal, but has a slightly different address. For example, if the legitimate site is 'www.realbank.com.au', the scammer may use an address like 'www.reallbank.com'.
If you provide the scammer with your details online or over the phone, they will use them to carry out fraudulent activities, such as using your credit cards and stealing your money.
List of Scams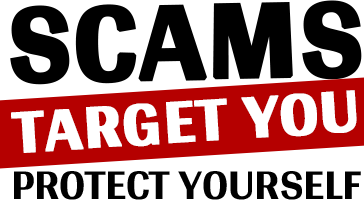 If you would like to be alerted of the latest scams in WA, please add your name and email address in the boxes below and click the red button to subscribe: