A Qantas Frequent Flyer member received this bogus email and clicked through to 'complete the survey' and 'claim a reward'.
However, they became suspicious when asked to input their email address followed by a question asking what their email account password was.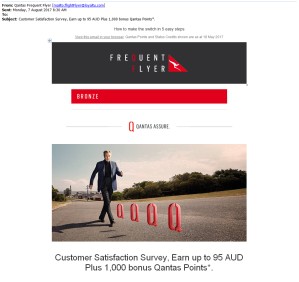 From looking at the original email (click on the image on the right to see the full email), WA ScamNet quickly concluded it was a scam because of spelling errors and a number of other leads.
The email address that the survey is coming from (flightFlyer@loyaltu.com) is not a legitimate Qantas Frequent Flyer email address– the real frequent flyer email address is frequent_flyer@qantas.com.au
The scammers contact number is 13 82 92 and NOT a Qantas number. The corrent number for Qantas Assure is 13 49 60.
The link in the email for the website seems to redirect you to another website entirely. This is how scammers obtain your personal information, also known as phishing.
The link in the top bar of the email which states "Frequent Flyer" takes you to http://daqwah.com/media/ which is blocked by Consumer Protection's IT system as it has been associated with malware/spyware.
The same link (daqwah) seems to come up if you were to click on "Find out more- claim your reward" button.