Scammers posing as electronics retailer JB Hi-Fi are sending SMS messages claiming there is a 'giveaway' that expires soon – but be warned, it's nothing more than a phishing exercise to get hold of your credit card details.
WA ScamNet previously warned about a JB Hi-Fi giveaway scam last year that was phishing for credit card details, however a similar scam has emerged that differs slightly in that would-be victims are unwittingly signed-up to a streaming/entertainment subscription.
07 January 2021
How the scam works:
In the most recent scam, victims receive an SMS claiming that because they made a recent purchase at JB Hi-Fi they were entered into a draw and have won a gift.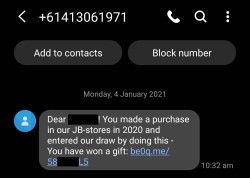 A link included in the SMS leads victims to a JB Hi-Fi branded landing page stating three winners will be picked each day through January to say 'thank you for a big 2020.'
The page lists three names, including that of the recipient, who is prompted to click on a button to start the process of accepting the prize.
After answering questions about their location, whether they prefer to buy products in-store or online, they are then told they need to pay $2 in postage to receive the gift, which is a choice between either a MacBook or iPhone 11 Pro.
Once a prize is selected, the victims are redirected to another page to set up an account that requires an email address and password, before being prompted to enter credit card details. What victims don't know is they are really signing up for a streaming/entertainment service which costs $49.95 per month.
While the company offering the streaming service appears to be a legitimate entity registered in Cyprus, WA ScamNet is concerned that consumers could be unaware they are handing over their credit card details in order to be signed-up to a service that debits $49.95 from their account each month. There is also no guarantee that is the only funds they will take or even that you will be able to access the content they claim to have available.
The steps of the scam in images (click on image to see in full scale).
The best thing you can do if you receive an unsolicited SMS like this is to delete them. Scroll down for further WA ScamNet tips.
12 August 2020
The SMS contains a link that takes you to a 'survey' branded with JB Hi-Fi logos that once completed claims you have a won a free iPhone 11.
However, there's a catch – in order to receive the free iPhone you need to pay $1 for shipping via credit card.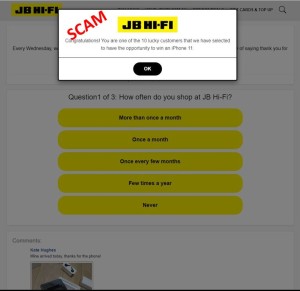 How to protect yourself:
Do not open or click on links in suspicious or unsolicited emails (spam) or text messages – delete them.
Get in touch with the legitimate company, using its official contact details, to check if an offer is genuine.
Look out for signs that a website may not be genuine, including spelling errors, low-resolution images or an address that is unusual or different from a company's authentic website.
Never enter your personal, credit card or online account information on a website that you are not certain is authentic.
If you have paid, keep an eye on your credit card statement for any strange transactions – otherwise contact your credit card provider and request your card be cancelled and a new one issued.
Visit our WA ScamNet website for help and advice at www.scamnet.wa.gov.au, call us on 1300 304 054 or complete the Report a Scam form.