Hang Seng Bank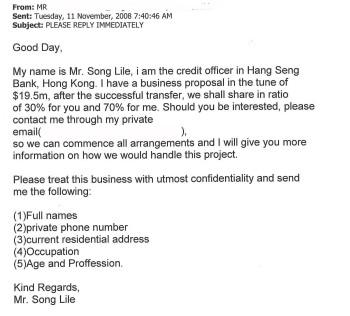 Con artists posing as employees and senior executives of the Hang Seng Bank are trying to rope you into becoming a 'partner' in a business transaction.
What sounds like an enticing business proposal could mean that you become a partner in crime instead, and a possible police target.
But that's only if you respond and take part in this scam. Typical of advance fee frauds, the scammers send out letters, or in this case emails, to many people in the hope that at least one person will fall for their sinister plot.
The proposal requires you to initially email back your interest in being involved in a money transfer of tens of millions of dollars out of Hong Kong, to Australia.
To register your interest, they request you send them personal details such as your full name, private telephone number, residential address, occupation, age and profession. You are promised more details about the scheme if you respond.
According to the Hang Seng Bank's website, these large sums of money are touted as those of deceased account holders with the bank. Recipients are asked to pose as the person's next-of-kin.
In one case, a recipient was promised 30 per cent (or $5.85m) of the $19.5m sum for participating, not bad money in anyone's language!
But this is all part of the grand scam…to win your trust first and then get you to part with your own money by wire transfer, before you are supposedly 'paid' your cut of the deal.
But that's as far as this deal goes…you will never see a cent of your promised payment.
Do not send a stranger, especially from overseas, your personal details or money by wire transfer. Scammers prefer this payment method because it is almost impossible to recover the money, but is a strong warning signal that you are being scammed.
The bank has reported this matter to the Hong Kong police. Our contributors have reported this scam to WA ScamNet.