Fake iTunes receipt - email phishing scam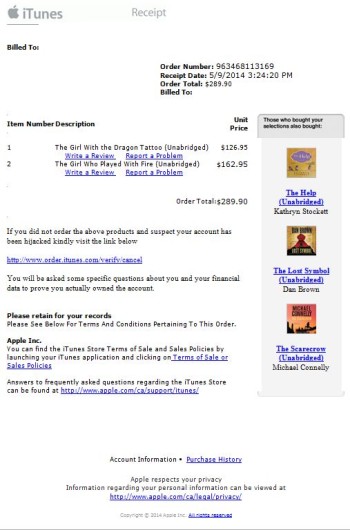 If you receive a fake iTunes purchase receipt, ignore and delete it.
WA ScamNet has had reports of emails that appear to be from the Apple Store confirming expensive purchases that were made on an iTunes account and containing a link to dispute the purchase.
The email duplicates an authentic iTunes message and features the Apple logo, but is not actually from the Apple store.
The costly items and convincing fake receipt are designed to alarm you into clicking on the link to dispute the purchases and attribute them to a hacker.
Don't even be tempted to click through, as you will simply end up at a bogus website.
It's a phishing scam and if you enter your personal and financial details, you're at risk of becoming a victim of credit card fraud or identity theft.
A warning has previously been issued on Australia's hoax-slayer website.
According to the information about phishing on the official Apple website: "The iTunes Store will never ask you to provide personal information or sensitive account information (such as passwords or credit card numbers) via email."
If you get an email receipt from Apple and you are concerned, you should log in to your iTunes account independently of the email and check the transactions on your account. Alternatively contact Apple via their official site.
Never click on any links contained in scam emails as this can give the criminals the opportunity to steal your secure information.Ignore and delete these emails if you are certain the transactions are false.
You can fight back against email scammers by having a good virus detection package with a SPAM filter that automatically deletes dodgy emails or puts them in a separate area of your inbox.
It is illegal to send SPAM emails in Australia. This area is regulated by the Australian Communications and Media Authority (ACMA) and they publish details about their enforcement action on their website.
Enquiries or scam reports can be made by email wascamnet@commerce.wa.gov.au or by phone 1300 30 40 54.
Image of the fake Apple Login Page