March 2021
COVID-19 vaccination scams
Scamwatch has published information in relation to COVID-19 vaccination scams, including how to avoid vaccination scams, protecting your personal information, how vaccines will be distributed, and COVID-19 vaccination scams outside Australia. See the Scamwatch COVID-19 vaccination scams page for details.
Banking scam emails have been reported particularly involving Commbank (Commonwealth Bank), claiming that due to COVID-19 all customers are required to review and update personal information and are unable to use their account until this process has been completed. The email asks victims to follow a link to update their details, creating a sense of urgency by suggesting that the link is only valid for one day.
Reports of telecommunication impersonators asking for personal details in order to access fake COVID-19 discounts on their phone bills. ACCC reports one scam in particular targeting Vodafone customers has been frequently reported. Scammers typically phone and state that the call recipient is eligible for a discount due to COVID-19. The call recipient will then receive a one-time security PIN, which the scammers asks them to read back to them. The scammer then typically orders a phone, SIM and/or phone plan using the reporter's account and the victim receives an invoice.
Services Australia scam email
A fake Services Australia "subsidy benefit allocation" phishing email continues to circulate. WA ScamNet's biggest concern is the identification details being asked for because that information could allow scammers to gain access to someone's myGov, ATO or superannuation accounts. Don't give your personal and financial info - delete the email immediately!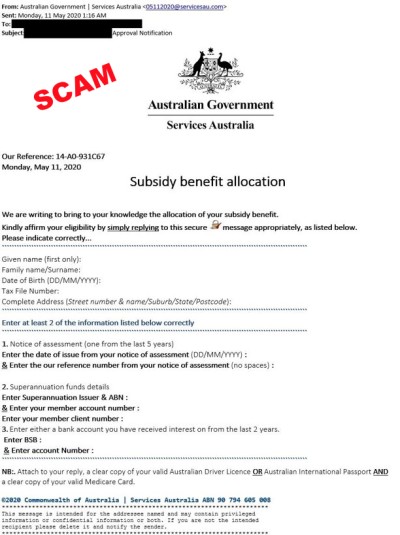 Superannuation scam email – ACCC warning

ACCC have created a fact sheet about superannuation early access scams, explaining how scammers are taking advantage of the government's early-release measures in a variety of phishing scams. In the most recent scam cold callers use the fake company "National Review Australia" to try and get personal information such as employment status and earnings from victims.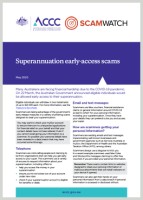 Latest COVID-19 scams - Channel 10 News report
Medicare Scam COVID-19 email
Scammers are impersonating Medicare and asking for donations to assist fighting the COVID-19 coronavirus pandemic. If you receive an email like this – delete it.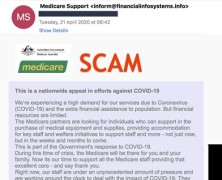 ATO SMS could be a sign of ID theft
If you receive the text message below from the ATO and you have not applied for early release of your superannuation, you may be the victim of identity theft. Contact the ATO, your super fund and IDCARE immediately.
"We have approved your application to access your super through COVID-19 early release of super. We have notified your super fund/s who will generally make payment within 5 working days. You do not need to call us or your fund. If you did not lodge this application contact us immediately Australian Taxation Office"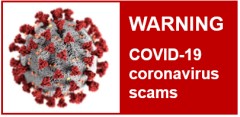 SMS scam warning from the Australian Government Department of Health
There is a hoax COVIDSafe text message circulating. COVIDSafe does not track your location and would not request you to 'check in'. If you have received this message, delete it and do not reply or text/call the phone number provided.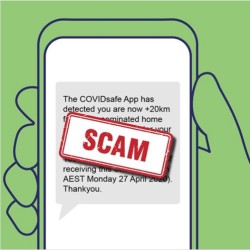 Woolworths or Coles scams
Emails impersonating Woolworths or Coles and claiming to give away $250 to support the nation.
COVID-19 extra payment' text messages:
If you receive a text message about "an extra payment as part of the Government's response to COVID-19" do not click the link and delete the SMS. It's a scam to steal your personal and financial information.
'COVID-19 free Netflix' text messages:
Don't fall for this COVID-19 Netflix phishing scam! Netflix is NOT offering free streaming for 3 months. Don't click on the link - just delete the message.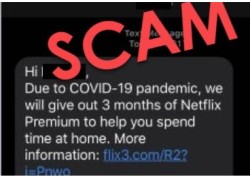 Economic stimulus package payment emails and telephone calls:
If you receive an email or telephone call from people claiming to be Services Australia or Centrelink asking for personal details related to the COVID-19 economic support payment, it is likely to be a scam. Services Australia will not ever contact you by email or telephone about economic support payments. To ensure you receive your payment – only update your payment details through the official myGov or the Express Plus Centrelink app.
'COVID-19 coronavirus testing' text messages:
Scamwatch warns of a Government impersonation scam text that tries to trick you into installing software that steals your banking credentials. The text messages appear to be legitimate by posing as a GOV sender and by including a link to find out when or where to 'get tested in your geographical area' for COVID-19. Do not click on links in suspicious texts. Visit the WA Department of Health site for information on COVID clinics and testing.