Catch the scammer or catch the hacker scam
Scammers call and pretend to be from a reliable agency saying they need your help to catch the scammer or hacker – but they are the scammer and will steal your money.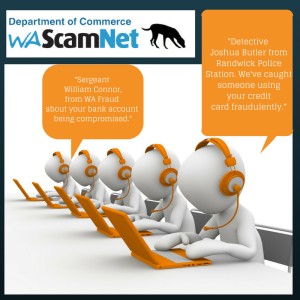 So far we have had reports of scammers pretending to be:
Telstra
Microsoft
Internet providers
Australian Taxation Office (ATO)
Police

Randwick Police Station
DC Rogers from Balmain Police Station
We do not think it will end there.
In this scam, you feel you are doing a job for the greater good by 'helping' the well-known and reputable agency catch a criminal, but unfortunately it is playing right into the scammers hands.
The scammer will ask look at your account and eventually ask you to buy iTunes cards. iTunes cards have quickly become scammers favourite form of currency.
iTunes cards are not refundable – so be very weary of anyone asking you to buy a bulk amount. Don't get fooled by scammers saying you need to pay a bill with iTunes cards.
How this scam works
The scammers:
say they are from 'Telstra', 'Microsoft' or another agency.
start the conversation with "we noticed that you are having problems with your computer".
ask for remote access to the computer and use various techniques to make the computer look as though it is being hacked and that information is being taken as they speak.
ask for help to track the hackers, and to do this, they will put an amount of money in to your bank account
ask you to buy iTunes cards and send them the redeemable code.
Once the scammer has convinced you they need your help on an official capacity, they will ask you to log in to your bank account.
There they will make it look as though you have extra money to buy the cards by either moving money around from one account to the other, or create a fake bank page. But there is no extra money. They are fooling you.
While you are out buying the iTunes cards, the scammer will stay on the line until you have given them the codes, rendering the card in you possession useless.
Other versions of this scam
In previous versions scammers pretend to be a police officer and ask for help in catching the scammers by withdrawing and sending money to the offenders who will be arrested when they collect the money.
In the past 2016, 18 victims in WA reported losing a total of more than $300,000.
In one case, an 81 year old Woodvale man put $50,000 in cash in two shoeboxes and sent them to an address in the United Kingdom. When the man's family found out, they contacted the real Police who managed to have the delivery of the parcel stopped and the money returned to sender.
In another case an 81 year old Gosnells woman lost $22,000 when scammers pretending to be from Telstra said her computer had been hacked and they wanted her help in catching the hackers. They asked her to make multiple payments to India with the promise that the money would be reimbursed and she would receive a new mobile phone for free in return for her assistance. She was about to send a further $4,500 when her bank queried the withdrawals and made her aware that she may be a victim of a scam.
What to do
If you get any calls of this nature, hang up and don't comply with their instructions and certainly don't send any money.
If you think you have found a scam, please report it to ScamNet.