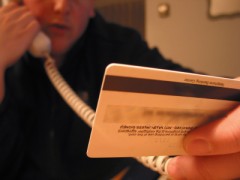 WA ScamNet is once again warning Western Australians about out-of-the-blue phone calls from scammers pretending to represent a government or other well-known organisation and asking for money.
The City of Melville has reported to us a scam where someone claiming to be from the Council calls residents to ask for a "procedural payment".
You can read their warning here.
Apparently, when challenged to give a name, position and official contact telephone number, the phone scammer ended the call by hanging up.
It's not the first time we have heard of a scam like this and it won't be the last.
If someone phones you and says they are from a government agency, official organisation or reputable company that does not mean they are who they say they are.
Would you hand over money if someone walked up to you in the street claiming to be from one of these places? If you wouldn't fall for it face-to-face, don't fall for it over the phone.
If a cold caller requests personal or financial details, or payment of any kind, alarm bells should ring!
You may be asked to pay by wire transfer (e.g. Western Union or Moneygram) or electronic voucher like Ukash or they might just ask for a direct bank transfer or credit card payment.
The types of phone scams we have seen previously include:
Fraudsters pretending to be from a utility company and claiming you urgently need to make a payment to avoid your household power, gas or water supply being cut off.

Offers of fake grants, rebates or refunds in return for up-front payments - the caller may falsely say are from the Australian Tax Office or a Banking Association.

The prolific technical support scam where phone scammers pretend to be from Microsoft, Telstra, Big Pond etc. and want to access to your computer, supposedly to help you with a problem like a virus or upgrading software – they often get you to log on to a website that allows them to connect with your computer.
WA ScamNet tips:
When in doubt about the authenticity of a call, don't commit to anything. Instead hang up and call the government department or company directly to verify that the call was genuine. However, DO NOT use contact details provided by the caller. Instead find the number via an independent source such as your last bill, the phone book or the organisation's official website.

NEVER confirm or provide personal details, credit card numbers or other account information over the phone unless you initiated the call and can verify the purpose for which you are providing that information.

SAY NO and hang up if a cold caller wants remote access to your computer even if they claim to be from a reputable IT or telecommunications company.

REMEMBER that you can still receive scam calls even if you have a private number or have your number listed on the Do Not Call register. Scammers can obtain your number fraudulently from black-market sources.
To fight back against phone scammers who call asking for money, TELL YOUR FRIENDS AND FAMILY that Government agencies, well known organisations and major companies just don't work in this way. Or use the share buttons below to spread the message via social media.