Phone scammers pose as Qantas or Virgin Australia
Scammers often pose as well-known and reputable businesses (e.g. Microsoft, Telstra, Qantas, Virgin Australia, Marriot Hotels, etc) to try and convince you they're the real deal. These scammers ask you to dial a number to go from the automated service to a human 'telemarketer' who will ask you for your credit card details in the aim of defrauding you. If you get a call like this:
Hang up! Do not press 1.
Be warned, these scams regularly resurface. They often quieten down when there has been some media attention and wait a few months only to resurface under the guise of another well known company.
In April 2015, during the weekly Consumer Protection segement on ABC 720 Mornings, two callers reported getting suspicious phone calls from an automated service using the voice of a 'well-spoken' man claiming to be Qantas and offering 999 frequent flyer points.
In April 201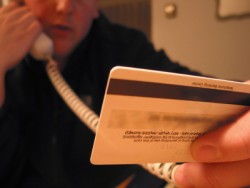 4 SCAMwatch and Qantas warned people about automated calls from scammers posing as Qantas staff claiming the receiver of the call had won a credit towards their next holiday. If you receive this call, hang up.
How this scam works
You receive a phone call out of the blue to your mobile, home or work phone and, when you answer, it goes straight to an automated message claiming to be from Qantas.

If you have recently flown or booked with Qantas, the recorded message may sound like it's the real deal as the caller thanks you for choosing Qantas and claims that you have been chosen to receive $999 in a 'travel prize', 'credit points' or even 'frequent flyer points' towards your next trip.

The automated message will direct you to press '1' to find out more information.

If you dial '1', you will be put directly through to someone claiming to be a representative of Qantas. The caller may congratulate you on your win before stating that you must answer a series of questions in order to qualify for the prize. The caller will typically ask whether you are aged over 30, have a valid credit card, and then finally ask for your credit card details in order to process the prize.

If you hand over your credit card details, you will find that money has been taken rather than deposited from your bank account.
These scammers appear to be persistent, with some consumers and businesses reporting that they have received several of these calls in one day. Unfortunately scammers ignore the fact that you have a private phone number or a number listed on the Do Not Call Register, so if you have a number like this, you can still expect to receive this call.
Qantas advises that their consultants will always call customers directly to discuss their bookings and do not use an automated phone system when contacting customers proactively.
Note: you may not even be a customer of Qantas and still receive this scam call.
Protect yourself
If you receive an automated phone call out of the blue claiming to be from Qantas, hang up.

If you have doubts about the identity of any caller who claims to represent a business, organisation or government department, contact the body directly. Don't rely on contact details provided by the person – find them through an independent source such as a phone book or online search. You can contact the official Qantas Contact Centre on 13 13 13.

Remember that you can still receive scam calls even if you have a private number or have listed your number on the Australian Government's Do Not Call Register. Scammers can obtain your number fraudulently or from anywhere it has been publicly listed such as in a phone book.

Never give your personal, credit card or online account details over the phone unless you made the call and the phone number came from a trusted source.

If you think you have provided your account details to a scammer, contact your bank or financial institution immediately.
The phone scammers may also pose as Virgin Australia, well known hotel groups or similar as this ABC online article explains.