Lady officer Gwen Roberts international Facebook lottery scam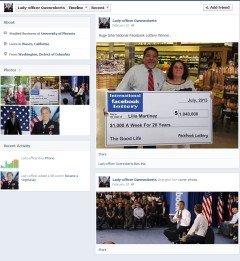 WA ScamNet has received reports of an International Facebook Lottery scam involving the fake persona 'Lady officer Gwen Roberts'.
A woman in Broome received a personal message to her Facebook inbox from a Facebook friend who had won a Facebook lottery and could now pay off her mortgage.
The message contained a link to the Facebook page of 'Lady officer Gwen Roberts' who was supposedly dishing out the lottery money.
The woman had clicked through and begun communicating with this 'Lady officer Gwen Roberts' and was receiving high pressure messages to transfer funds to a Ruth Ray in Wisconsin, USA or otherwise she would miss out on her win.

According to the messages there were various amounts you could transfer and different returns.
The woman planned to send $950 in exchange for a $170,000 win until the owner of the travel agency where she attempted to wire transfer the money convinced her to hold off and do some more checking.
It turns out the Facebook friend who sent the original message had had her Facebook account hacked and didn't really send the messages about a lottery win. The messages were sent by the scammers.
Unfortunately another person in Broome has apparently already sent $2,000 in the hope of getting $200,000 in return.
WA ScamNet was alerted to this case by the travel agency which prevented the wire transfer of funds.
Our investigation found:
The profile picture on the 'Lady officer Gwen Roberts' Facebook page was a stolen picture of a US Military officer who goes by a different name.
The account had only been opened 11 days earlier.
The images of supposed 'International Facebook Lottery' winners are photoshopped versions of true lottery winners.
We have reported the Facebook page and lodged a request for it to be closed down.
We have reported the payment recipient details (Ruth Ray, Wisconsin) to Western Union.
In addition to this we have alerted wire transfer outlets in the Kimberley of this scam affecting local people.
WA ScamNet tips:
Be suspicious of any lottery win offered when you have not entered a lottery
Never pay money to receive money
Talk over the situation with a friend or family member or an officer at WA ScamNet (1300 30 40 54)
Report suspicious Facebook profiles or pages to phish@fb.com
Page created: 18 February 2014