Hispanic Classic Lotto Program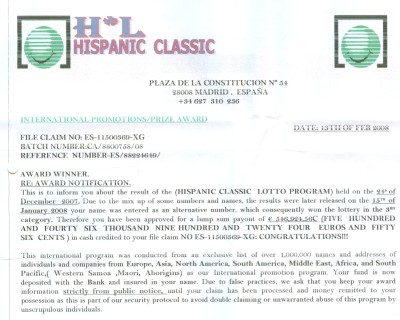 Hispanic Classic Lotto Program claims you are the winner in an international promotions program. You are entitled to claim €546,924.
Your winnings have been deposited in a bank and insured in your name. You are asked to keep the win a secret and contact the Spanish claims agent.
You are also asked to fill in a processing form requesting personal information such as name, telephone number, bank account and name of next of kin. The form is supposedly required by the Euro-General Security Company S.L.
The scammers must be getting lazy because this is a copy of the El Gordo letter with just the names and headings changed.
This is an advance fee fraud and if you respond, you will be asked to send money to pay for fees and charges to access your winnings. The scammers may also use your personal details for criminal activity – including accessing your bank account.
Go to our sections on El Gordo and "Have you won an overseas lottery" to find out more about how this scam works.