UK National Lottery Sweepstake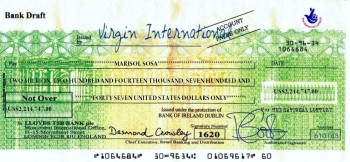 Western Australians are receiving emails saying they have won a cash prize on the UK National Lottery online Sweepstakes International program.
The "Winning Notification" email claims your email address was attached to a winning ticket number. Participants were selected randomly from World Wide Web sites through a computer draw system.
The email looks authentic using official logos and names – but it is an advance fee fraud, which will ask you to pay money to claim your prize.
Similar scams are using the banners "Lotto", "The National Lottery", "Good Causes" or "Heritage Lottery".
The UK Department of Culture, Media and Sport and the National Lottery Commission has issued a warning that the emails do not come from UK National Lottery. No lottery that asks for payment in order to claim a prize belongs to the UK National Lottery.
Check out their websites at www.culture.gov.uk and www.natlotcomm.gov.uk.
If you respond, you will receive a series of emails from various so-called authorities, barristers and banks, asking you to provide details and money to process and claim your prize.
The emails string you along with a story that you need "an affidavit of claims" and United Nations money laundering clearance certificate because of issues to do with fraud, terrorism, drug money and money laundering.
One email states: "The concern of the United Nations arose from the pressure mounted on it by the United States government as part of its global war on terror. The fear is that such huge sums could be employed by Global Terror Networks against the interests of the U.S."
The scammers start with a request of 359 (GBP) for the affidavit. Once paid, you are asked to send 924 (GBP) to register your lottery file and then 4,825 (GBP) for the UN certificate. The money must be sent by Western Union Money Transfer and is supposedly held in escrow or bank accounts.
One WA woman, a former UK resident, sent $2000 to the scammers before contacting WA ScamNet. She had had both email and phone contact with the scammers.