FIFA World Cup Lotto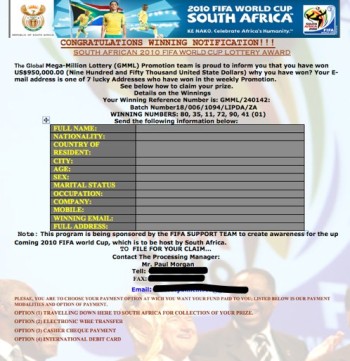 Scammers are hoping to score a goal with this email claiming to be from the Federation Internationale de Football Association (FIFA).
The email proclaims that you are the US$5 million winner of the first FIFA World Cup Lotto.
Supposedly, all participants were selected through a "highly secured and integrated computer-generated FIFA ballot system", drawn from countries all over the world. No FIFA Lotto ticket was sold.
The email goes on to say: "Your award prize of $5 Million USD is securely deposited with a financial institution in the USA while waiting for your feedback to commence the transfer process. Due to the mix up of some numbers and names, we advise you to keep your winning information confidential until your claim is processed and the money remitted to you in whatever manner you deem fit to claim your prize. This is part of our security protocol to avoid double-claiming or other unscrupulous acts by some disgruntled unlucky participants of this program."
You are then required to provide information including your name, address, birth date and so on.
But this email is nothing but a foul. Ask yourself this: If FIFA had run a competition with such a large prize, why is it not mentioned on their official website? Why would FIFA ask prize winners to keep their winnings a secret?
This email is actually an advance fee fraud scam. If you respond, the scammers will start asking you to pay money for fees to release your so-called winnings. People who have been caught up in advance fee frauds have paid tens of thousands of dollars – and have not received one penny back.
WA ScamNet gives the "red card" to this email. We suggest you do the same.