Vital Prize Information Fulfilment
Prizes and lotteries letter scam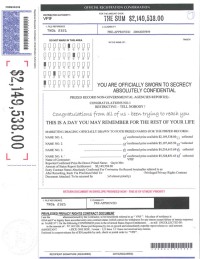 What a nice surprise! You've received a letter which is 'official registration confirmation' for a pre-approved amount of 'over $2,149,538.00'.
It's from Vital Prize Information Fulfilment or VPIF for short.
Your name is at the top of a four person winners list but your amount is higher than that collected by persons two, three and four and yours says UNCOLLECTED.
All you have to do is pay $30 by cash, cheque or postal order to 'immediately expedite report-release re: said amount.'
Stop! Read the terms and conditions.
As with a lot of these dodgy schemes the devil is in the detail.
On reading the fine print you'll discover that VPIF is merely a supplier of information about sweepstakes and promotions run by other organisations.
They are not directly connected or in any way related to the award or prize providers they are reporting on.
That $2,149,538.00 figure quoted earlier in the correspondence is simply the amount you have the potential to win if you enter the competitions suggested in their report.
The scheme is similar to one operated by Davenport & Associates.
This information is more than likely available publicly without you forking out $30.
If you've made a payment to VPIF for a prize report within the last 60 days you can get a refund.
To get your details removed from their mailing list, write to:
VPIF
802 6th Avenue
#61
New York
USA 10001