Spanish lottery
El Mundo or El Gordo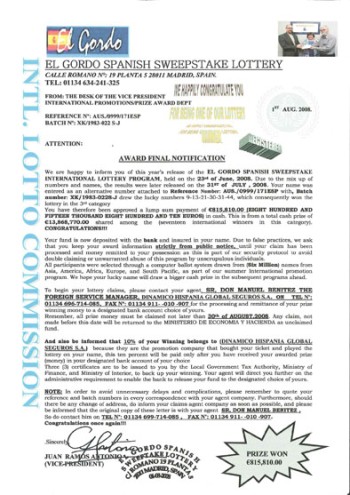 In this scam, an email or letter arrives claiming you have won tens of thousands of dollars in a Spanish Lottery you have never heard of.
The El Mundo Spanish Lottery Sweepstake notification is a carbon copy of the El Gordo lottery scam (pictured).
The official Spanish lottery called El Gordo it is only open to Spanish residents. The people behind these scam letters and emails are not connected to the real El Gordo lottery.
The El Mundo Lottery Promotions/Prize Award Department claims your name was entered into the El Mundo Spanish Lottery Sweepstakes and you won €615,810 euros.
To collect your prize you must contact the claims agent from Santalucia Security Company, S.A.
It asks you to fill in a processing form and provide your name, address, date of birth, bank account details, next of kin and other personal information.
The letter states that Mapfre Marketing Company, which entered your name in the draw, will keep 10% of the winnings.
If you respond, you will be asked for various fees in order to release your alleged prize. Of course, you'll never see one cent of your fake winnings.
Worse still, you have now provided your bank account details and other personal information to scammers who may use it to steal money from your bank account.
Similar scams are also operating under the names International Lottery de la Primitiva, Euro Million International Promotion Programme and Spanish Sweepstake lottery.
The El Gordo lottery scam has been doing the rounds for years.
Targets are told they have won millions in the genuine Spanish lottery El Gordo and a 'processing fee' is needed to release the money. A number of people sent money even though they did not remember entering the lottery.
Email or letter recipients are sometimes told that their name was entered into the lottery through an international promotions scheme. Rather than a processing fee upfront, the agents ask for bank account number, address, date of birth, next of kin and a signature so they can pay the money directly into your account. Victims report receiving follow-up letters or emails requesting processing and transfer fees which can amount to thousands of dollars. Personal information can also, of course, be used for identity fraud.
View an annotated version of this scam so you can educate yourself.