Willoughby and Johnson
Free jewellery! It costs $80. It's worth $zero.
"Two genuine diamond accent stones absolutely free!"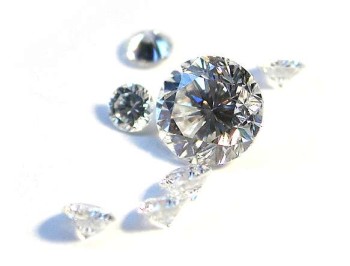 T. Brian Wells from Willoughby and Johnson of 6 Commercial Street, Hicksville New York (also known as Willoughby and Johnston in the same letter) declares "under penalty of perjury" that you are a cash prize winner and that US$27,500 is now being disbursed.
For returning your (undated) claim within 7 days, and paying only $80 setting fee, you can have a FREE diamond and garnet pendant with chain, or the same gems set in a ring or a gentleman's money clip. And you are still a cash prize winner!
A registered Perth Gemologist and valuer appraised the pendant for insurance purposes at $0.00. The diamonds are of a total weight around 0.03 carats and not of gem quality.
Oh yes, the cash draw. All entrants "win" one American dollar. You take your chances for the balance.
Consumers should also be aware of other products being distributed from the same address under different business names and should treat these businesses with just as much suspicion: -
Royal International Jewellers of Antwerp - Tell you what great pleasure they had when informed by Willoughby & Johnson Ltd that you were a cash award recipient. They state their intention to give you these precious gemstones free if you pay the setting fee of $US80.00.
Chadwick, Burke & Co Ltd - You have been pre-selected as a final round winner. They say that the sweepstakes is their client's way of publicizing their fabulous jewellery values and they hope you accept a "Hand-crafted genuine Diamond and Sapphire Sterling Silver plate Filigree Heart Locket suspended on a 20" silvery rope neck chain for just US$19.95.
International Merchandise Award Centre - Your immediate response qualifies you to definitely receive a Sony Projection TV or a Sharp Microwave or a Bank Cashier's Cheque for US$2,741.58. They want you to enclose a cheque or credit card details for the amount of US$19.95 a one time only cost.
First Sovereign Equity Group Ltd - You have been declared a winner of US$27,500 sweepstakes. This also entitles you to receive the PowerScope, the personalised guide to self enrichment and empowerment ever created - at a cost of US$29.00. You get a free book and a genuine power crystal pendant on an 18" genuine silver clad cable chain.
Reed, Benson & Associates Ltd - You have been declared a winner of US$27,500. You can enclose A$76.41 to cover the fee for mounting the 5 genuine Austrian Crystals and engraving the initials on a genuine 22 carat gold plated jewelled pen and pencil set.
Coventry Leatherworks - You are the guaranteed recipient of a cash award of up to US$27,500. Your cheque will be included in the Fernando Dailie Leather Chequebook Wallet for only $67.95 plus A$9.95 postage. This Business uses the same award when promoting other products which are now included on a small brochure.
Digital Worldnet - They are holding a package in their shipping facility which is insured for over US$125.00 and includes household items, Personal Accessories, Designer Jewellery, Designer Watches, Writing Instruments, Leather Goods - Basically all the products distributed from 6 Commercial Street, Hicksville, New York.