Lottery winner impersonation
Scammers pretend to be lottery winners because they can confuse their victims with real news articles about the millionaires they are posing as.
They send a mass email in the hope of snaring the right person at the right time – it takes just a moment of vulnerability to reply.
A recent example reported to WA ScamNet, by a usually scam-savvy pensioner from the UK who has been suffering some ill health and perhaps had his guard down, is this email claiming to be from 'The Maxwells Fund'.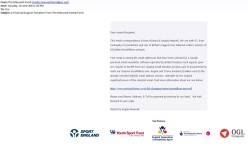 Click image to view larger
Four days later a more personalised follow-up email arrived.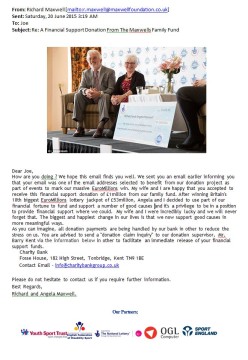 Click image to view larger
Thankfully the man came to Consumer Protection and we were able to confirm it as a scam.
Warnings have been issued by Australian-based website Hoax -Slayer and UK-based newspaper Lincolnshire Echo.
It shows that an internet search is always a good place to start before responding to out-of-the-blue offers. Put the word 'scam' after the words you are searching e.g. The Maxwells Fund scam.
We've seen an email scam like this before when sadly an 85-year-old WA man lost $200,000 to scammers posing as EuroMillions lottery winners Adrian and Gillian Bayford.
The Bayford's lawyers actually sent a letter of thanks to Consumer Protection for our awareness-raising regarding the frauds being carried out in their name.
Page created 14 July 2015