Fake recruitment advertisements claim to be Deloitte
Job hunting? WA ScamNet warns fraudsters are impersonating Deloitte in recruitment advertisements placed in classifieds sections of various Australian newspapers and magazines.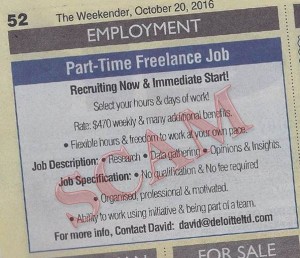 Two people came forward to Consumer Protection after responding and thinking they'd be taking up work-from-home opportunities. One woman was asked to cash a cheque and send funds on to South Africa by wire transfer. However, the bank wouldn't cash the cheque and that's when she became suspicious and realised she was being used as a 'mule' to launder money for criminals.
We've confirmed with Deloitte Australia that the adverts are nothing to do with them. The name used to communicate with job seekers, David Rees, is the same name as someone who works for Deloitte in the UK but it's a form of identity fraud. The imitation seems to involve the scammers taking publicly available information from a LinkedIn and Facebook profile.

We reported email and web addresses used in the scam to have them disabled. They have since been shut down.

We also alerted Western Union – the wire transfer company being used for transactions between the would-be employees and the scammers. On official advice from law enforcement agencies, Western Union can block receivers of funds who are scammers.

Publications that printed the ads have been advised it is an employment scam and asked to be more vigilant in future. But the scammers could still pretend to be Deloitte again and get adverts in different papers or magazines, probably paying with stolen credit card details.
In the 2015/16 financial year there were 48 reports regarding employment scam attempts, with at least 18 victims confirming losses of $42,100 between them.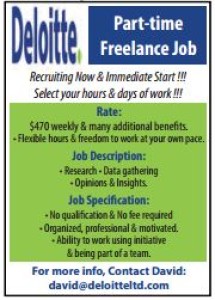 The rise in employment scams is attributed to the economic downturn.
Tips to avoid employment scams
Have a healthy amount of suspicion before responding to job vacancy advertisements. Carry out some independent research. A simple online search or phone call may be enough to confirm that a business, company or trading premises does not exist or is being impersonated.

Remember in Western Australia employment / recruitment agents must be licensed and are not permitted to charge job-seekers for their services. They can only take fees from the employer. For your own protection only use licensed employment agents listed on the Consumer Protection (CP) website

www.commerce.wa.gov.au/cp

and report anyone trying to charge to find you work, by calling 1300 30 40 54.

Guard your personal information including your CV / résumé, tax file number and any proof of identity documentation, such as a scan of your passport. This is all the information required for criminals to commit identity theft.

If you're asked to pay money upfront to secure a job, whether it's for training, equipment, transport or accommodation, don't do it. It's not normal industry practice and likely a scam. Seek an opinion from WA ScamNet by email consumer@dmirs.wa.gov.au or phone 1300 30 40 54.