Beware of "monks" collecting money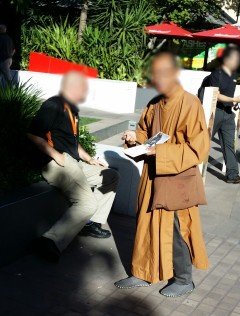 Consumer Protection is investigating concerns about men dressed as Buddhist monks collecting cash in exchange for prayer beads, amulets or spiritual guidebooks.
In the last few days there have been numerous reports of shaven headed men in brown coloured robes asking for charitable donations of $20, $30 or $40 on the streets of Perth. Previously there have been sightings in Mandurah.
The Buddhist Society of Western Australia has confirmed to Consumer Protection that these men are not members of their organisation and advised that 'monks are not allowed to receive, handle or touch any money as laid down in the monastic rules by the Buddha 2500 years ago'.
Acting Commissioner for Consumer Protection Gary Newcombe warned that street collectors must have a permit to prove they are fundraising for a licensed charity.
"The charities licensing system safeguards West Australians by preventing the misuse of donations and ensuring the money reaches the cause it was intended for," he said.
"Without record keeping of donations received and a restriction on the deduction of operating costs, charitable collections are open to abuse. That is why it is an offence to collect money or goods from the public for charitable purposes without a licence or under authorisation of a licence-holder.
"Scams involving men purporting to be Buddhist monks in order to collect money have been common in Asia but the apparent emergence in WA is recent and Consumer Protection is investigating.
"Our officers have tracked down and made approaches to a number of these individuals to explain the law. If the behaviour continues we would look to prosecute.
"We are liaising with the City of Perth, whose rangers have been moving on street collectors dressed as monks and working with us to identify people involved."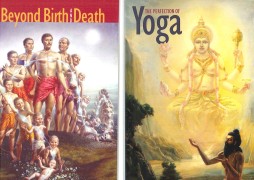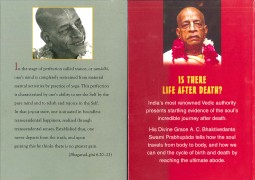 Consumer Protection's Tips
Never feel pressured to donate money to someone who approaches you uninvited.

Ask to see evidence of their street collection permit.

If in doubt about whether a collector is from the charity they claim to be representing, source contact details independently and donate that way instead.

Remember you can view WA's licensed charities register at: www.commerce.wa.gov.au/charities.

Information about how to avoid scams is available on WA ScamNet: www.scamnet.wa.gov.au .
Suspect street collectors can be reported to Consumer Protection via 1300 30 40 54 or by emailing consumer@commerce.wa.gov.au.
A guidance pack for collectors and licensed charities intending to authorise collections under their licence is available for download at: www.commerce.wa.gov.au/charities.