Greenery Holiday (formerly Greenery Tourism)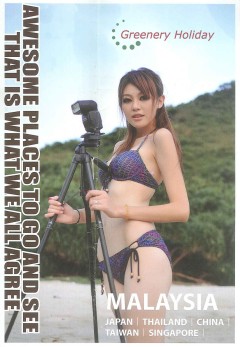 When a business gets a bad name it might undergo a rebrand and that's exactly what seems to happen with the glossy travel brochure and scratch card scam out of Malaysia.
In September 2011 we gave you the warning below about Greenery Tourism and now there's a slight name change and revamp – the new title is Greenery Holiday.
The scammers are consistent – 2 years ago their brochures promoted their 8th anniversary and now it's their 10th anniversary. But WA ScamNet has found that the website for this one – Greenery Holiday – was only registered in September 2013.
Despite our request to have the Malaysian-run site www.greeneryholiday.com shut down, it unfortunately remains active. We will continue to try and have it deactivated.
Now, even though one of the two scratchies reveals a $170,000USD win (the other says 'Please Try Again' to add legitimacy) you have not won any money and making contact with the senders of this information will only result in the scammers trying to extort money from you. Chances are they'd ask for fees to be paid by Western Union wire transfer, to facilitate a pay-out of winnings. There is no windfall and if you had won money why would you have to pay to receive it?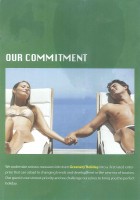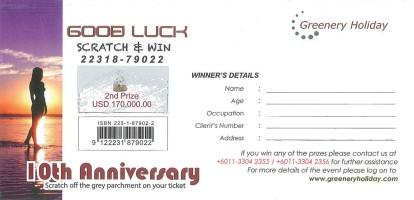 Thanks to members of the community who mailed us the latest variation of this scam. We are interested in receiving the envelopes that the brochure and scratch cards are sent in, so we can work with Australia Post to try to have the mail intercepted at the Perth airport sorting facility before it reaches people's mailboxes. If you receive this scam in the mail please post the envelope, brochure and scratch cards to:
WA ScamNet - Consumer Protection
Reply Paid 64772Locked Bag 14
Cloisters Square
Western Australia 6850
---
Greenery Tourism
Fake lottery scratchie tickets

A bogus Malaysian travel company, believed to be responsible for several travel scams over the past three years, is tempting recipients of their latest travel brochure to give away their personal information and pay $3,500 in fees.
Consumers have reported receiving glossy travel brochures from Greenery Tourism in Malaysia which contains two fake lottery scatchie tickets. The brochure offers complimentary lottery prizes to celebrate the company's eighth anniversary. One of the two scratchie tickets contained in the brochure reveals a 'third' prize of US$130,000.
To claim the prize, recipients must provide a scanned copy of their passport as well as their bank account details, and pay half of $7,000 in government taxes. This fee has to be sent by wire transfer to agents in Asia before the prize money can be released to the 'winner'.
Previous Malaysian travel scams have been named by WA ScamNet including the Vmac Holiday Group (in July 2011), the EverMas Tourism Group (in September 2010), the Euphoria Travelling Group (in December 2009) and Malaysia Starize Travelling Group (in April 2009).
Our advice to consumers is not to respond to this unwelcome arrival in their mail box and dispose of the brochures and fake scratchie tickets immediately. The lottery is fake, the prize doesn't exist and recipients will lose their money for no gain whatsoever.