Shell Petroleum International Lottery Promo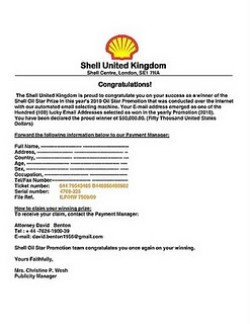 An email arrives in your inbox announcing you are the winner of the Shell Petroleum International Lottery Promo.
The email claims the lottery was promoted and sponsored by Shell International Petroleum Co. Ltd London as part of their social responsibility to alleviate poverty.
Ten lucky winners will share in three million Euros with each winner receiving three hundred thousands Euros each.
According to the email, your email address was randomly selected through a computer draw from ten million email addresses to receive the three hundred thousand Euros.
Do not respond to this email. It is an advance fee fraud scam. Shell Australia has confirmed it is a scam and their company has nothing to do with it.
If you respond, the only thing you will alleviate is your own pocket!
The scammers have used Shell's name and logo to give the email legitimacy.
Advance fee frauds are often known as Nigerian scams and, guess what, the email claims your money will be released from their Nigerian office.
If you respond, the scammers will start asking you for a range of fees to release your money. If you had won a legitimate lottery, why would you need to pay fees to access your money?
WA ScamNet is aware of one Western Australian consumer who has already sent them bank account and passport details.
According to Shell Nigeria's website, various scammers have been using Shell's name and reputation to try and perpetrate a variety of cons including different advance fee frauds and fake job offers.