Prades Asociado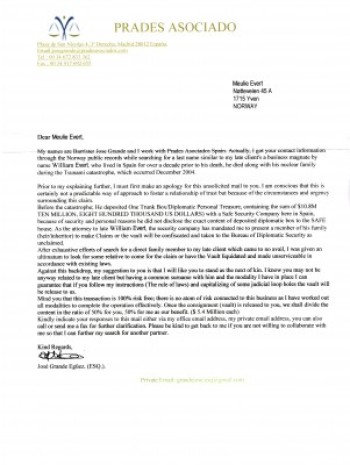 It may seem like all your Christmases have come at once, receiving an overseas letter in the mail saying that you could inherit money from a businessman with the same last name as you.
This deceased relative you have never met before supposedly has a total of $10.8 million or TEN MILLION EIGHT HUNDRED THOUSAND US DOLLARS (as it is written in the letter) held with a safe security company in Spain.
The letter looks like a genuine solicitor's letter complete with a logo. The supposed barrister, Sebastian Martinez of Prades Asociados in Madrid, claims that as you have the same surname as the deceased, he would like to negotiate a deal with you to get deposited funds out of the country.
The letter goes on to suggest you act as the next of kin and if you follow his instructions the money will be released to you both and you can split the funds.
The so-called barrister even goes as far as to apologise for the unsolicited mail he is sending you and tries to reassure you that helping him distribute this money is 100% risk-free.
Sebastian Martinez asks you to contact him, but it is likely that if you do, you will be asked to pay fees or charges linked to releasing these funds.
This type of advance fee fraud is not new and we have seen the following names and supposed companies offering the same thing:
Abogados Sanchez

Middle Asociados & Abogados

Manuel Rato Asociados

Abady & Abady Associados

Partner for Ann & Willy Chambers

Borza S Socio

Rooney M Socio

Philip Van Leuwen & Advocaten

Geraldo Dantel
Don't be thrown off by the urgency this letter tries to put across, it is important that you do not contact Mr Martinez or send money.
Make sure that if you receive a letter similar to this, that you do not respond and you inform Consumer Protection straight away.
Don't be the next victim, for more information on advance fee frauds, click here.