HD International Legal Consults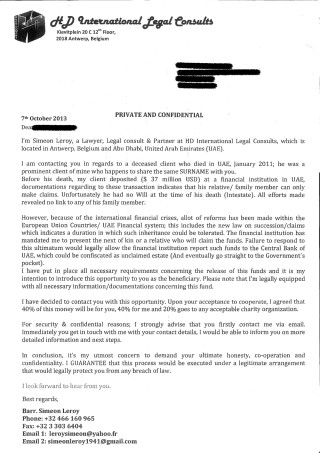 This warning comes to you courtesy of the community – at least 12 worried Western Australians have sent in copies of these HD International Legal Consults letters to WA ScamNet, which has prompted us to issue an alert.
The letter arrives in your mailbox uninvited – it's in a white non-descript envelope and postmarked Bucharest, Romania.
The letter, which is personally addressed to the receiver, claims to be from a Lawyer called Barr. Simeon Leroy at HD International Legal Consults based in Antwerp, Belgium and Abu Dhabi in the United Emirates.
The letter states that a wealthy deceased client, who shares the surname of the letter recipient, left 37 million US dollars deposited in a financial institution in the UAE. Apparently the money can only be accessed by a family member but no such relative can be found.
This means a beneficiary opportunity (chance to become a scam victim) is available…
Guarantees about legal protection aim to convince you to contact 'Barr. Simeon Leroy' via email to start a process that will supposedly see you inherit 40% of the US$37million.
A suggestion that 20% will go to charity is dropped in to convince you that there is also some good to others coming about as a result of your personal gain.
We have not had any reports from people who have responded to the letter but our guess is that there will be fees to pay; starting out as a small one-off payment to release a document and then slowly escalating in frequency and size, e.g. for taxes or charges to do with disposal of the funds. All these fees and charges are simply part of the big lie.
WA ScamNet's research shows:
These scam letters are being received internationally as well as in Australia.

There is no legal practice by the name of HD International Legal Consults.

There is no Barrister called Simeon Leroy.

The address used is a virtual office rather than a physical business premises.

The phone number, if answered, will most likely have you speaking with a person who is scripted with information to make you believe you are speaking with a real lawyer's office and knows all about your particular letter.
Email addresses (leroysimeon@yahoo.fr and Simeonleroy1941@gmail.com) have been reported for abuse in order to have them closed down. However, we know from past experience that scammers simply open up other email accounts using free service providers.
This scam is similar to a number of previously named beneficiary scams, such as:
Although this scam tactic has been around for years there will be many people who are unaware and others who may be more susceptible due to their current circumstances (health problems, serious financial difficulty etc.).
Let's get the name and details of this mail scam out in the open – please share this warning with friends and family.