Grand Sands Casino Investments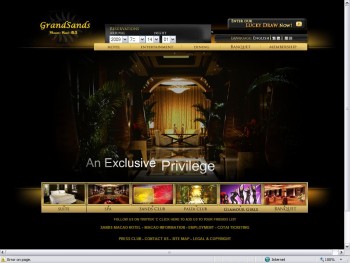 Scam website for GrandSands
Three types of communication have been used in this elaborate scam involving a text message, a bogus website and an overseas call centre.
The scam starts with a sms advising recipients that their mobile number has won third prize and they should contact the company GSCI on their hotline number. The message includes a website www.grandsands.com.
Before it was shut down, the website was an elaborate copy of the lavish Sands Resort website on the island of Macao. The bogus version has since moved to www.gscimacao.com after WA ScamNet contacted the resort to report the fraudulent website.
The owners of the Sands and the Venetian Macao Resort Hotels have issued a warning about the bogus website and scams involving offers to invest in projects associated with the Venetian or Sands Hotel.
It is one of the most sophisticated clone websites that WA ScamNet has seen, but we weren't fooled for a minute. We won't list all the telltale signs for obvious reasons, suffice to say, it was all fairly noticeable to the trained eye.
Snap shot of legitimate GrandSands website
But, to the untrained eye, the website looks like the real deal and a further incentive to ring the hotline number in Melbourne and satisfy any curiosity about the mystery prize.
Consumers who have phoned the hotline report a significant delay in the call being answered, suggesting it is being transferred to an overseas call centre.
The scammers claim to be operating from a prestigious commercial building in Melbourne – but a check with the managing agents revealed no such company is operating from this address.
The sting comes when the callers are asked for their personal details to verify the award and then told that they have won $100,000.
However, there is one small catch, they have to pay $20,000 of their winnings in tax to the Macao Government and must pay $2,000 in advance. That's $2,000 of your money they want, not a deduction from the winnings, so now it really starts to become obvious!
WA ScamNet is aware of at least 30 winners of third prize. Do not respond to any of these text messages and certainly do not call the hotline number.