Paul Collins chain letter scheme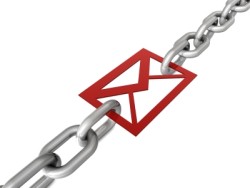 "Paul Collins" asks "Would you like to earn an extra $200,000 working from home?"
With a headline like this, how could you resist?
For years, the most common pyramid scheme investigated by Consumer Protection has been a chain letter called the "Paul Collins letter."
"Dear Friend. The enclosed information is something I almost let slip through my fingers … Being a Christian, I truly believed it was wrong to be in debt … This letter will change your life FOREVER…FINANCIALLY!!! 100% Money Back Guarantee!"
Six pages later you find that the way to make $234,000 in 3 months is to:
Buy reports for twenty dollars each from the four people on the list.

Put your name at the top of the list and move the others down.

Post 200 copies of the 8 page letter to others who could use a little money.
It says it's all perfectly legal. So why do they need made-up names and PO boxes?
Sadly, many of the people who follow the instructions find that the only response they get is from a Consumer Protection Investigator. Instead of a $20 note there is a letter about a $220,000 fine.
"Paul Collins" and the originator of the program "Edward L Green" do not exist. The Paul Collins letter is not just a nuisance chain letter. It is an example of mail-based pyramid investment fraud. Under Western Australia's Fair Trading Act (and similar legislation almost everywhere else) it is an offence to:
Participate in or promote a pyramid scheme (by sending it to others),

Make false statements about risk or earnings in connection with any home-based business, or

Make statements about future matters (such as earnings) without having reasonable grounds (like records of past performance) for believing them to be true.
The penalty for a breach of the Fair Trading Act is a fine up to $220,000. But, it gets worse. Everyone who loses money because of a breach of the Fair Trading Act is entitled to compensation from anyone involved in the breach. We encourage victims to pursue this right. It helps stop pyramid schemes in their tracks before they do much damage to the community.
Fighting back
When the "Paul Collins letter" is promoted locally, we investigate.
Those who refuse to discontinue the scheme and refund any sales, we prosecute.
When we prosecute we get orders for compensation in addition to penalties. Restitution orders can be several times higher than the fines.