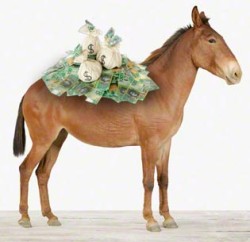 Consumer Protection and WA Police have warned West Australians not to be tricked into becoming money mules for overseas criminals.
Most people are becoming money mules by being enticed by a job advertisement offering an attractive salary for working from home or by responding to a fake business proposition. These people are being conned by fraudsters wanting to use their bank accounts to transfer money out of the country.
In the past 12 months, Consumer Protection received reports of money mule activities from 32 victims with total transactions reported to be almost $560,000, an average transaction of about $17,500 per person.
Commissioner for Consumer Protection Anne Driscoll said this new tactic is being used by scammers because asking victims to wire transfer money now raises suspicions.
"Scam victims are usually asked to wire transfer money via services like Western Union or MoneyGram which has been the preferred method of payment for scammers, but this practice now raises doubts in the minds of consumers as it should," Ms Driscoll said.
"So the criminals are now using other methods which involve conning people into using their bank accounts to transfer the money overseas. That way, scam victims may not get suspicious if they are transferring money into an Australian bank account rather than being asked to make an untraceable wire transfer."
Unsuspecting money mules are recruited through "work from home" job advertisements or may be victims of investment or romance scams who believe they are receiving and transferring funds as part of a legitimate business transaction.
Detective Senior Sergeant Steve Potter from WA Police Major Fraud Squad said people who transfer the money are breaking the law and could risk criminal prosecution.
"Anyone who is asked to receive and transfer money on behalf of someone else may be breaching anti-money laundering laws and could be subjected to a police investigation and possibly face charges," Det. Snr Sgt Potter said.
"Already some people in WA are facing money laundering charges or are under investigation in cases where we allege that they refused to heed warnings from Consumer Protection, WA Police or their banks, and then continued to receive and send money via their personal bank accounts.
"So I would urge anyone asked to transfer money on behalf of another person to question what they are doing and, if there are any doubts or suspicions, seek advice from either Consumer Protection or WA Police immediately."
Ms Driscoll said organised crime gangs are increasingly using their extensive network of scam victims around the world to launder money.
"Scam victims who have already sent their own money to the criminals over a period of time are at greater risk of becoming money mules, particularly romance fraud victims who feel they have a close relationship with the scammers and have already fallen into their web of deception," the Commissioner said.
"When a scam victim reports sending money to an Australian bank account, it is not unusual to discover that the bank account is owned by another scam victim who has been conned into forwarding the funds to the overseas criminals under the guise of some legitimate purpose.
"By receiving money into their account, the scam victim believes it represents legitimate returns from a business venture that they believe they have already invested in, and may then be tempted to "invest" more of their own funds into this fake business."
People who believe they are being used as money mules should contact WA ScamNet or contact Crimestoppers on 1800 333 000.
Page created 2/4/15