Mystery shopper / Survey agent employment scam
Job adverts for mystery shoppers or survey agents have been appearing in recruitment sections of WA newspapers lately (February 2013) BUT it's no secret to Consumer Protection that the scheme is a scam.
The ad asks for people who are interested in the employment opportunity to email for more details. Replies about the job offer and what it entails will appear professional.
It's likely the scammers will give a spiel about being an organisation that investigates opinions and experiences of companies to provide feedback to those companies and help them improve their customer service. (If this was true wouldn't the organisation be a registered business with information readily available through an internet search?).
They may say they need a quick decision from you because there has been a large response to the job advert and there is only one vacancy left. The idea here is to turn your attention away from taking time to consider and research the offer.
They'll claim your assignment will be to run surveys on Western Union outlets, restaurant locations etc. Notice how they are only specific about Western Union. It's because that's the wire transfer service they'll get you to use to send them money you have obtained illegally.
They'll send you a cheque in an envelope with Irish stamp and postmark (like the one you see below) for $4,250 and ask you to cash it at your bank. Problem is it's a counterfeit which means you're about to, whether you know it or not, take part in criminal activity.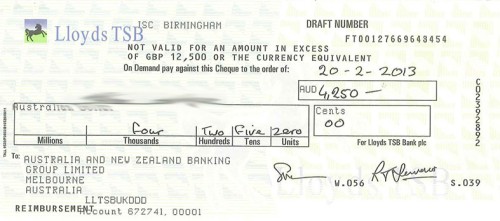 The scammers will ask you to withdraw the funds, deduct your fee e.g. $450 and then go to a Western Union outlet to wire transfer the remaining money. Of course you'll be asked to assess the service you get at the Western Union outlet – this is to keep up the pretence that it's all part of a customer satisfaction survey.
Your local bank may have cleared the cheque within five days and the money might be showing in your account but that doesn't mean the cheque won't be dishonoured once the overseas financial institution bounces it. So, there's a chance you could end up thousands of dollars out of pocket. It's also likely the police will want to speak with you in a situation where you have been used as a "money mule".
Names and email accounts used to perpetrate this scam recently include:
Jenny Brockfield: jbrockfieldshp@gmail.com
Andy Jones: andyjones20004@hotmail.co.uk
WA ScamNet has reported these accounts to the email service providers.Recipient details for wire transfer of funds include this person (reported to Western Union):

Ademola Orabiyi, 56 Midrand Ave, Pretoria, South Africa, 0004

We issued a warning about a similar bogus scheme in 2010: Mystery Shopping Inc.
If you've fallen for this type of scam and need to know what to do next, click: [ Article QV0EONRHQRGYQ2W3NIE1T049SCD3HK not found.].
Spotted a suspect advert that you think is a scam? Email a scanned copy, along with details of where and when it was published to wascamnet@commerce.wa.gov.au