Farm and vineyard job scams
A seasonal scam is back this summer.

'Jobs' at a winery or farm, with accommodation included, are advertised to catch the attention of visitors from overseas who are in WA on a working holiday or Australians who may be having a 'gap year'. Unfortunately instead of making money, travellers stand to lose cash.
These fake offers of employment are often posted online using classified websites like Gumtree. However, they can also be promoted via social media, for example Facebook, and may even be put on noticeboards at hostels.
Recent example (February 2016)
Backpackers responded to a Gumtree Australia advertisement (below) and paid a deposit by direct bank transfer thinking they would be going to work on a farm in Brookton.
Fake identity Mushroom Organic Pty Ltd Farm Manager, Joe Smith, using the email address joe@mushroomfield.com.au and phone number +61390160077, even asked questions such as whether the backpackers had a pollen allergy to add credibility to the conversation.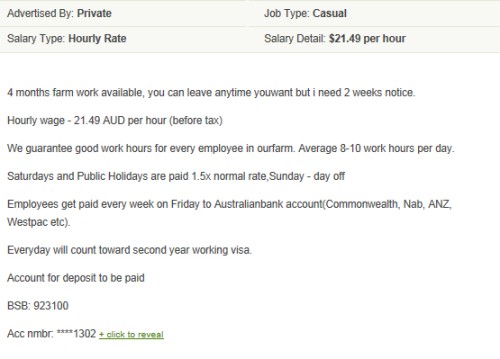 One backpacker received replies including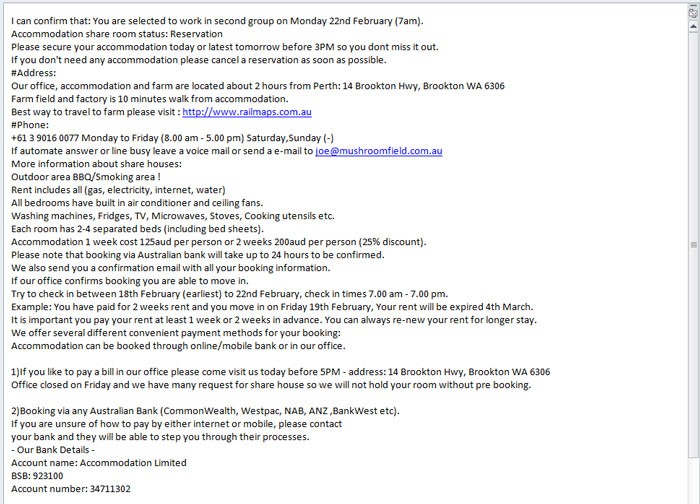 Did you know you can do a BSB search to find out where you are sending money to?
A BSB search reveals whether the account is in Australia and which bank it is. However, an Australian account could belong to a money mule who thinks they are receiving money for another reason, such as for a work from home opportunity or on behalf of someone they met online. The money mule then sends the funds onto the scammers, usually by wire transfer which is the preferred payment method for fraudsters due to its lack of traceability. Often the money mule has no idea they are involved in a fraud.
Another example (January 2016)
The owner of a winery in Albany saw an advertisement for work at HER vineyard on Gumtree but it had not been posted by her and they were not hiring.
She responded to the mobile phone number listed (0467 426 513) to find out more and got the following responses from the fake identity Jess:

A google search of a phone number may reveal that it's being used in scams
When searching the number used in this scam you will stumble upon a blog thread of people who have been scammed including a couple who paid $250 each for travel and accommodation supposedly to work at an apple farm in New South Wales.
Unfortunately a phone number isn't enough for authorities to track scammers because often the number will be rerouted overseas using technology called Voice over Internet Protocol (VoIP).
This is not a new scam and it's not going to go away
In the last few years many backpackers seeking jobs in regional WA have lost money and also compromised their personal information by giving out details, such as a scan of their passport, only to find out afterwards that the offer of employment was a scam.
In January 2015 several overseas backpackers were each duped into paying $200 after responding to a fake employment agent advertisement on Gumtree offering fruit picking work and accommodation in Narrogin. We issued a warning at the time.
In April 2012 about 40 backpackers lost $120-$150 each and gave away their secure personal details to a scammer who advertised fruit picking jobs in Margaret River on Gumtree. The group only realised it was a scam when they all turned up at a Perth CBD hotel to get on a bus and the transport never showed up. Read the full story here.
WA ScamNet tips for travellers seeking employment
ü Before responding to a job vacancy advertisement carry out some independent research into the employment agent or venue where the employment or accommodation is supposed to be.
Do an online search of addresses and any company or business names used.
A simple phone call to a farm or winery may be enough to confirm that they are not hiring via an employment agent or Gumtree.
A local council or industry association is also a good place to check with because legitimate accommodation providers and employers will be registered.
ü Know that in Western Australia, employment agents must be licensed and are not permitted to charge fees to prospective employees. They can only charge the employer for their services. For your own protection only use licensed employment agents whose details can be found on the Consumer Protection website via the license search function.
ü Apply a healthy amount of suspicion when responding to job advertisements on Gumtree. Guard your personal information including your date of birth, employment history and any proof of ID documentation that could be used to steal your identity. If you are asked to pay fees upfront to secure a job, accompanying accommodation and/or transport alarm bells should ring.
ü Report anyone who wants you to pay them to find work for you. It is illegal to charge fees to secure employment for people in WA. You should refuse and dob in the agent, or their website, to Consumer Protection immediately. Enquiries or scam reports can be made WA ScamNet by email or by phone 1300 30 40 54.
Community education - your help is needed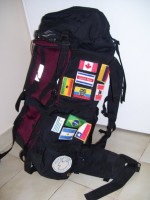 If you are a backpacker reading this warning, can you share the information with other travellers to warn them too. Maybe you could ask your hostel to print the warning and put it on the noticeboard or share the electronic version via Facebook if they have a page.

If you know someone who is coming to Australia on a working holiday share this warning with them.

If you see a suspect advertisement on Gumtree, please report it using the 'Report this ad' button to prevent people losing money. You can find more information via the Gumtree security centre.