Visdom Investment Management, Chicago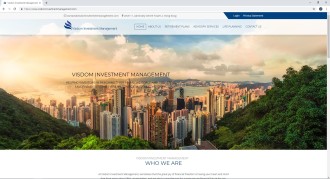 Scammers have set up a fake investment company to defraud investors.
They're using the name Visdom Investment Management.
The website the scammers created is visdominvestmentmanagement dot com.
The address listed in its scam emails is 150 North Riverside Plaza, Chicago.
One of the bogus identities sending the emails is 'Howard Goodwin, SR Global Equities Advisor.
It's actually a bogus copy of a genuine investment company in Hong Kong.
WA ScamNet has confirmed with the true Visdom Investment Management (Hong Kong) Ltd that emails sent from 'Visdom Investment Management, Chicago' are fake and nothing to do with them and they do NOT have an office in Chicago.
Previous investment scam victims are being targeted. They are asked to send money by international bank transfer.
One investment scam victim, who bought $200,000 worth of fake shares in December 2017 from a company claiming to be Tsukuba Global located in Tokyo, is among those who have been targeted.
The takeaway from this scam investigation is that legitimate business information can be used in scams.
Always check financial institution registrations online.
Use independently gathered information to assess whether something is the real deal.
Be sceptical about investment offers you receive, especially if you've been targeted by, or lost money to, investment scams previously.
Tips to avoid investment scams
Be suspicious of offers to sell you shares, cryptocurrency or a chance to take part in Binary Options Trading, especially if the 'company' is based overseas.
If someone's telling you about a way to make easy, fast money and putting significant pressure on you to invest big with a promise of high returns, ask yourself "is it too good to be true?" and discuss it with someone you trust.
Carry out thorough research before investing money and get independent financial advice from a licensed financial advisor – see ASIC's Financial Advisers Register.
Check ASIC's MoneySmart website to see a list of companies you should not deal with.
You can get help to verify investment offers and report investment scams by contacting WA ScamNet on 1300 304 054. If you've lost money use the report a scam online form.