Losses suffered by WA investors stung by binary options scams (The Aussie Method)
WA investors are suffering large losses after being scammed by bogus companies and websites offering investment opportunities in binary options trading.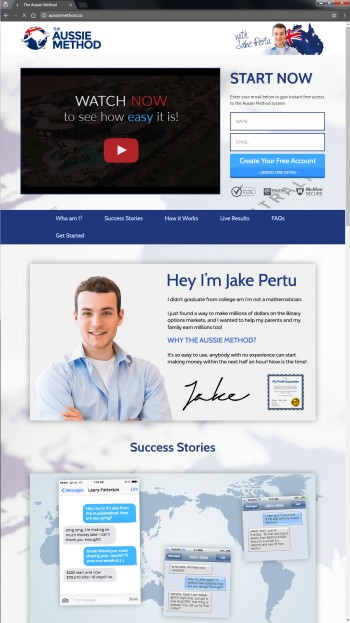 Binary options involve predicting the movements of commodity, asset or index prices over a short time and is regarded as a speculative, high risk investment. While this form of trading is a legitimate financial product offered by licensed firms, scammers are now entering this area and successfully taking money from investors.
In 2016, more than 20 WA investors have reported to WA ScamNet losing a total in excess of $240,000 to binary options scams. Australians have lost a total of $3 million in 2016 as reported by the ACCC in their release "Don't be lured into binary options scams".
Consumer Protection issued a particular scam warning about various websites operated by a bogus business The Aussie Method, after one investor recently lost $10,500. The websites include:
Aussiemethodsystem.com
Aussiemethod.co
Aussie-method.trading-software.co
Ausmethod.com
Ausmillionare.com
Ausmillionaires.com
Ausmethodmillionaire.com
Ausmethodsystem.com
Ausmethod.net
Aussiemethodapp.com
Facebook pages associated with this business have been closed and attempts are being made to have the websites closed down as well.
WA ScamNet's attempts to close down the various 'The Aussie Method' websites have so far been unsuccessful so we warn investors not to commit any investment money via these sites.
How it works
Potential investors respond to ads and are then cold called, lured by the promise of making huge profits. The websites look very professional and accounts are set up in the investor's name showing healthy gains which prompt further investments.
The realisation they've been scammed comes when the investor is unable to withdraw their funds and then the people they are dealing with become difficult to contact. The 'account' is then closed and their money is gone.
Advice
Be wary of any investment which offers a high return with little risk and get independent financial advice before committing. Only use operators with an Australian Financial Services licence or are authorised by an AFS licensee. Also check on the ASIC website for more information on investing.
WA investors who have given money to Aussie Method should contact Consumer Protection by:
email or
calling 1300 30 40 54.
More advice on binary options and other investments is on ASIC's Moneysmart website.