Two million dollar online fraud loss WA's largest
(Money Wash / Black Money)
A 56 year old man from WA's South West has suffered a two million dollar loss, the largest ever reported to Project Sunbird, after becoming a victim of an investment and 'money wash' (aka black money) fraud.
---
Click on the image below to view the Today Tonight story (aired 16/10/13).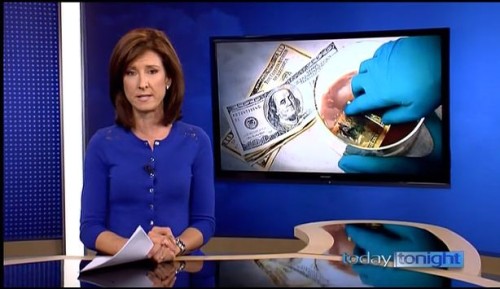 ---
Bryan from Boyanup, who doesn't want his surname revealed, met the fraudsters online four years ago and was offered an investment opportunity to recover lost funds from the United Kingdom and set up various investments in Australia. He also paid for what the fraudsters said were a series of fees and taxes required to complete the deal which they claimed would result in a windfall of 32 million UK pounds (hear Bryan's story part one).
The offenders provided him with a credit card and set up a bogus account where he could withdraw small amounts of money from his two-million dollar investment.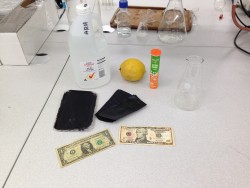 As part of the sting, Bryan met the fraudsters in Kuala Lumpur and Dubai where they demonstrated the method where expired bank notes that had been coated in a white substance can be turned into useable currency after being washed in chemicals. He understood a case containing a safe full of dyed money could be converted if he invested $US80,000 to buy the "special" chemicals needed. The 'wash wash' fraud usually involves notes that have been dyed black and the common chemicals used in the process can usually be purchased at a small price.
The man, who was preparing to retire, said he may lose his home as a result of the loss and has postponed his retirement plans. He said he felt "gutted" (hear Bryan's story part two) when he realised he had been conned after being contacted by Project Sunbird, a joint operation between Consumer Protection and WA Police.
"I can only blame myself for being so blind and the more I got into it, the blinder I got. I decided I needed to get out of it and wake up. I hope that by telling my story people will become aware and not get caught like I have," he said (hear Bryan's story part three).
Detective Senior Sergeant Dom Blackshaw of the Major Fraud Squad (WA Police) said the 'money wash' fraud is a clever deception that has claimed many victims in the past.
"The criminals wash a small amount of real money that has been dyed and make their victims believe that the remainder of the coated money in the case is also real, when in fact it is mostly only worthless paper," Det Snr Sgt Blackshaw said.
"The offenders then demand a large amount of money to buy the chemicals to 'wash' the remainder of the fake money and the fraud then escalates from there.
"This particular fraud was supported by sophisticated fake websites replicating legitimate investment banking companies and a bogus account gave the victim the impression he had control of his funds when he did not.
"The offenders also used email addresses from providers who don't reveal the user's IP addresses, so it is difficult for us to trace where the fraud originated."
Commissioner for Consumer Protection Anne Driscoll said consumers should get professional advice before sending money overseas to people they have met on the internet.
"Victims should be mindful that, by being involved in these investment deals, they may inadvertently be taking part in an operation that is illegal, exposing them to potential prosecution. It may also be the case that they are being used by criminals as money mules and innocently assisting a money laundering operation," Ms Driscoll said.
"It's important not to be tempted to make impulsive decisions when invited to take part in these get rich quick schemes. Once the target starts sending money overseas, more demands for funds soon follow.
"A quick check with an accountant or Consumer Protection early in the process will likely expose these investment offers as frauds and their authenticity and legality can be assessed. This will prevent any money being lost by the potential investor.
"There is not only a huge financial loss suffered by the victims of these elaborate frauds, but they also suffer emotionally as their trust in people has been seriously challenged."
---
60 Minutes story: Scammed
Aired: Sunday 8 June 2013
Content courtesy of Channel Nine's 60 Minutes.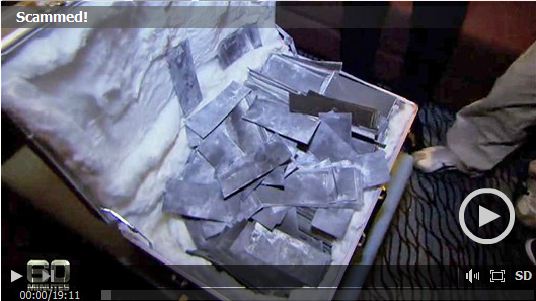 Reporter: Allison Langdon
Producer: David Alrich

We've all heard of the Nigerian scammers - conmen who bombard us with tales of woe and get rich quick schemes. You'd think we'd be wise to them by now but they lure more than $100 million out of Australians every year. The latest scam is called black money. Australian tourist Rob Connolly recently fell for such a hoax while on holiday in Thailand. He lost his life savings and his world has fallen apart. But Rob's on a mission to expose the seedy world of African shysters and scam the scammers
---
You can find more information and advice on how to fight back and protect yourself against scams. Enquiries or scam reports can be made by email or calling 1300 30 40 54.