Millions of dollars feared lost in fake investment website scam -

Larosa Group
Massive losses are feared with evidence that Australian investors have sent significant amounts of money to a Dubai bank account after being duped by a bogus investment company operating a fake website.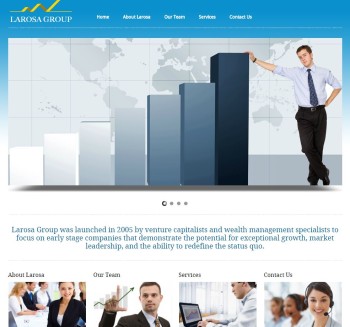 Consumer Protection and the WA Police Major Fraud Squad are conducting inquiries into the website (larosa-group.com), being operated by a group claiming to be Larosa Holdings Ltd, trading as Larosa Group.
The joint inquiry has revealed that at least five Western Australians have sent $120,000 to the company in recent months and it is understood over $2.4 million has been sent by victims across Australia.
WA couple report losing $45,000 to the scam
The couple was searching on the internet in February this year on how to invest in electric car and lithium battery manufacturer Tesla, when they came across the Larosa Group website claiming to be located offshore in Dubai and Canada. They filled out an online form and were contacted the same day by someone claiming to represent the company. They were advised to transfer $28,000 to purchase shares in Tesla. A month later another person claiming to be from Larosa Group contacted the couple offering to purchase more shares on their behalf for a further payment of $17,000. No documents confirming the share purchase were ever sent to the couple.
The investigation has so far confirmed that:
Larosa Group is not registered as a provider with the Dubai Financial Services Authority;

Images of executives used on the website have been stolen from legitimate websites; and

Addresses in Dubai and Canada listed on the website are phoney.
Attempts are being made to close down the website.
WA ScamNet urges investors not to deal with the Larosa Group or its website while inquiries are underway.
Anyone who has had dealings with Larosa Group is urged to make a report to the Australian Cyber Security Centre.
Doing random searches on the internet for investment opportunities is a risky exercise as some professional looking websites could be fake and operated by criminals seeking to defraud would-be investors.
It is strongly recommended for investors only use licensed financial investment operators when looking to invest their money.
Investors should go through Australian stock brokers and financial services providers licensed by the Australian Securities and Investments Commission to ensure their investments will be handled in a secure and professional manner.
If you are dealing with an overseas based company, which is not registered in Australia, you should consult the International Organization of Securities Commissions (IOSCO) website and check with the appropriate authority where the overseas business is located to confirm they are appropriately registered to provide the services you require.
Reports to ACORN can be lodged via their website www.acorn.gov.au.
More information on investing securely is available on the Australian Securities and Investments Commission (ASIC) websites: www.asic.gov.au or www.moneysmart.gov.au.
WA investors who believe they have been a victim of this scam can contact WA ScamNet at Consumer Protection by email wascamnet@commerce.wa.gov.au or by calling 1300 30 40 54.