Gerardus "Gerry" Jorissen
Winston and Gerry
In January 2014, 59-year-old Winston saw a 'home for sale' sign and phoned a number, which belonged to Gerry Jorissen. That call would change Winston's life, and not in a good way…
When Gerry claimed he needed funds to access a large sum of money owed to him in relation to an investment from a number of years ago, the main reason Winston agreed to help was based on religion…
So after agreeing to help, because Jorissen and his wife had said they were Christians, Winston handed over $70,000 – a workers compensation payout he had received for a shoulder injury from shearing.
Winston says he also sold two high value vehicles to raise funds for Jorissen.
Even though Jorissen said he would repay the loan with interest, 18 months later Winston realises he's not getting his $100,000 back…
Winston says his work prospects are limited due to his shoulder injury and age and he is now unsure how he is going to pay for future living costs.
Winston has been helping WA Police Major Fraud and Consumer Protection and has spoken out as a warning to others.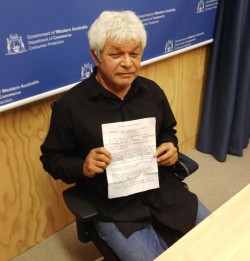 Winston with the fake investment certificate