50-year-old Jenny lost a six figure sum in six weeks after getting caught up in a romance fraud in late 2013.
She was contacted via a well-known dating website. The scammer(s), posing as an attractive man in his 50s called Gary, quickly took the conversation over to email and phone. Jenny was then encouraged to take down her dating website profile because they were meant for each other.
Jenny thought she was talking to an American man who had moved to Perth to work in the mining industry. But when she pushed for a face-to-face meeting his job suddenly took him away from WA and it wasn't long before the requests for money came…
Hear her story: part 1
So what made her send hundreds of thousands of dollars to someone she had never met?
Hear her story: part 2
She admits she was suspicious…
Hear her story: part 3
Even before she sent a third and final payment she was on the verge of calling off the relationship because she feared she was being scammed…
Hear her story: part 4
Ironically it was when she was due to receive money back into her bank account that she sought advice because she was afraid she was being used to launder money…
Hear her story: part 5
WA ScamNet confirmed the image used in the dating website profile, and others supplied to Linda on email, had been stolen from an unsuspecting Facebook user. It's most likely Jenny was being conned by a group of international organised criminals. WA Police Major Fraud Squad is investigating this case but with international authorities and financial institutions involved it's a complex process.
In the meantime Jenny is sharing her story to warn others. Her tips for online daters…
Hear her story: part 6
If Jenny's story sounds familiar and you want to speak to the Project Sunbird team at WA ScamNet, call 1300 30 40 54.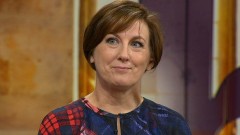 Further to telling her story to WA ScamNet, Jenny bravely waived anonymity and appeared on Love Bait - Insight SBS