Paul and Sarah
47-year-old Paul from East Bunbury was defrauded out of $10,000 over several months after responding to a Facebook friend request from organised criminals posing as a female wanting a romantic relationship.
The fraudster claimed to be called Sarah Mensah in Ghana and her profile picture showed an attractive woman.
It was a woman who spoke to the victim via email, phone and webcam (she appeared to be the same person who was in the profile photo).
At first she requested money for small things such as a gift for her father but went on to ask for payment of an airfare to WA.
A man purporting to be her father also spoke to the victim and he claimed to be a gold merchant and wanted money to pay for paperwork to release gold that was awaiting collection.
'Sarah' asked for further funds to pay for things such as a Visa and processing fees to the Australian Embassy.
The victim received a letter from Operation Sunbird (former name of Project Sunbird) towards the end of 2012, confronted the criminals and the ceased contact with them.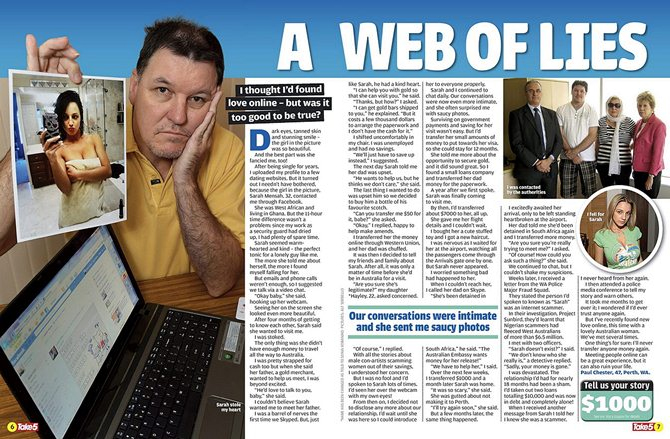 Click the image above to read the full article, courtesy of Take5 magazine