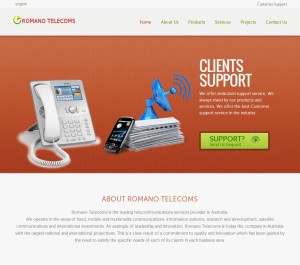 A fake website created for "Romano Telecoms"
When Pam met Romano on an online dating website, her life changed drastically. Only not in the way she'd hoped.
What seemed like the beginnings of a dream relationship quickly turned into a nightmare, when over the course of a few months Pam lost over $100,000, and Romano disappeared forever.
It turns out "Romano" never existed. He was a work of fiction, perfectly crafted to attract and flatter. "Romano" had only one purpose: to scam vulnerable lonely hearts out of their money.
The tale of Pam and Romano is one we're seeing far too often. The lure of a perfect relationship, and the "hurdles" that require substantial amounts of cash to overcome.
Hear in Pam's own words how it all happened
If Pam's story sounds familiar, or if you think this might be happening to you or someone close to you, we urge you to speak to the Project Sunbird team at WA ScamNet by calling 1300 30 40 54.
You can read all about Pam and "Romano" in this excerpt from Take5 magazine.