George Baranoski Fake Dating and Facebook Profile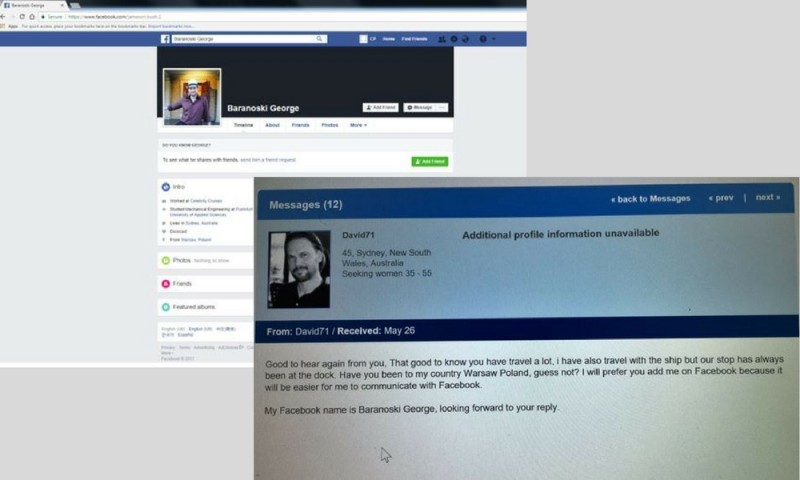 WA ScamNet received a recent report from a lady who lost $109,000 to a scammer after using the match.com dating website.
After starting up an online conversation with David71, he said his name was George Baranoski and asked her to chat with him on Facebook rather than the dating website. After talking for some months he convinced her to send him money while he was waiting for a business loan to go through. He promised to pay her back and apologised repeatedly for the delay, then blocked her from all methods of communication.
While we do everything we can to shut down the scam profiles, generally the money can't be recovered. Be aware of all the typical signs that scammers may use if you are using dating and social media websites.
Remember:
Alarm bells should ring if someone you do not know personally (have met face-to-face) requests money.
Be on your guard if someone you meet on an online dating site asks you to take the conversation over to email or instant messaging.
Be cautious when sharing personal pictures or videos with prospective partners, especially if you've never met them before. Scammers are known to blackmail their targets using compromising material.
Remember that just because someone shares personal photos does not mean the pictures are of them – scammers often steal other people's photos.
Don't be fooled into thinking that talking to somebody on the phone means you know them and that they are who they say there are.
Related Scams
Fake profiles: Captain Thomas Steve

A WA woman has lost more than $10,000 in an online romance scam after a fraudster used stolen social media images to pose as a ship captain called 'Thomas Steve'.

Read More...

Tony Walter fake facebook profile

Scammers are using images of an American public figure to set up fake dating and social media profiles under the name Tony Walter.

Read More...