Milka Petrovna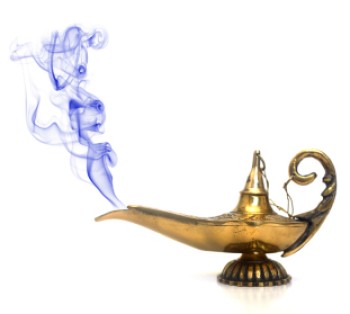 A lucky gambling genie will make all your financial dreams come true, according to the wizard of gambling Milka Petrovna.
WA ScamNet believes Milka is just out to "milk you dry" of your money with this rubbish.
Milka claims to be an old lady with a mission to help you out of your financial problems. But we think she is just delusional because she believes that the Hollywood film, The Thief of Bagdad, and the story of the genie and Aladdin's lamp is not fiction, but fact. And she claims to know the secret magic to create a genie.
She will create a lucky gambling genie for you for a "symbolic donation" of $59 or $74 depending on how long you want the genie to be effective.
She warns that if you don't buy her genie, the "astral worms" will continue to invade your mind, creating bad financial luck.
If that is not enough to convince you to hand over your money, Milka includes a testimonial from world-renowned scientist Professor Robbin T. Wight.
The famous Professor Wight claims to be a biophysicist from the Fitzgerald Institute of USA. The institute exists but WA ScamNet could not find any reference to Professor Robbin T. Wight. If he were a famous or world-renowned scientist, you'd think there would be a reference to him on the World Wide Web.
Of course, this is a typical psychic scam full of false promises. The letter's fine print states it is a business proposition and the writers cannot be held to any "strict liability to perform". The photographs, names and addresses illustrating this letter are non-contractual.
Forget the lucky gambling genie, if you respond to this letter you will be opening a Pandora's box of other scams.
This scam has a Swiss return mailing address of CH 1172 Bougy Villars.
Can't somebody grant our wish for all psychic scams to disappear!