Joseph von Jalan – Clairvoyant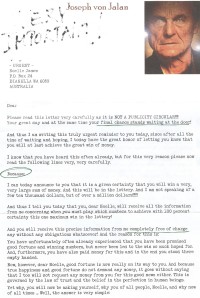 At WA ScamNet we didn't need a crystal ball to know that we'd be naming and shaming another clairvoyant scam; even though we've issued warnings about 90 or so previously.
A number of copies of the letter and voucher you see pictured have been sent to Consumer Protection by concerned Western Australians who felt vulnerable members of the community may be duped; WA ScamNet agrees.
Joseph von Jalan is the name of the 'fortune-teller' who has issued a magic voucher asking a couple of simple questions – your father's first name and your date of birth. If you respond you'll supposedly receive numbers, which if played on the lottery are guaranteed to win you millions of dollars! And they'll be provided to you free of charge.
It's a rather intriguing offer and one that you might well take up because you have nothing to lose; I mean after all it's free and it could even sound like a bit of fun to the unsuspecting.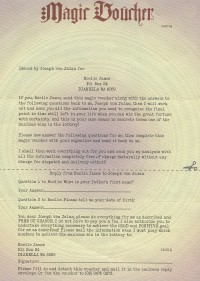 However, the information required when filling in the voucher is valuable to any scammer – your father's first name, your date of birth, your name and your signature.
WA ScamNet can tell you with certainty that once a scammer receives a response to an initial contact they'll target you for money.
If Joseph von Jalan existed and was truly a successful clairvoyant you'd find positive testimonials when typing his name into an internet search engine. Instead what comes up is complaint after complaint from people who say they have been scammed.
And here's a question to ponder. If Joseph von Jalan can predict the winning lottery numbers, why is he bothering with these mail-outs at all, surely he'd be busy spending his millions?

.
.

.

.