David Lopez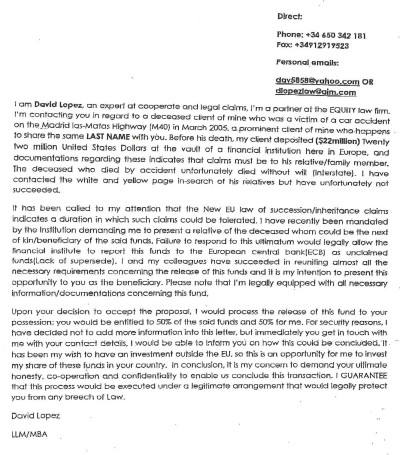 Like several other advanced fee frauds, scammers use the death of individuals to rope in consumers to part with their hard-earned savings.
The inheritance scam run by supposed barrister David Lopez LLM/MBA from Spain attempts to draw in unsuspecting recipients by telling them that 50% of a US$22 million estate is theirs simply because they share the same surname as their client who recently died in a car accident.
Sharing the same surname as his client (after an extensive search through the world's white and yellow pages, we kid you not) is how Mr Lopez targets potential victims. Recipients might also be targeted via email.
Rather than say you have won the whole kitty and by trying to add some legitimacy (if that is at all possible!) to the scam, Mr Lopez informs recipients that they will receive their 50% of the deceased's estate if they make contact by either fax or email after which, we presume, further details will be sent.
Like other advanced fee frauds, the further details Mr Lopez will most likely require include a fee to enable him to 'free up' the US$22 million from his deceased client's account. And this is where consumers are stung when they send the money.
Suffice to say Mr Lopez makes guarantees that "would legally protect you from any breach of the law". Whose law, we are not sure, but it's a safe bet that wherever it applies it hasn't been written yet!
Similar inheritance-type scams ranging from US$4.5 million dollars to US$12.5 million dollars have also appeared on ScamNet's radar under the following names and locations:
San Diego Samaranch of Samaranch Legal Practitioners, Madrid, Spain;

Gonzales Olias, Abogados, Barcelona, Spain;

David Thompson Jr, Thomson and Associates, Toledo, Spain;

David Ramos of Ramos & Associates;

Ralph Harland, chief accountant from the European Consul, Madrid,
Spain; and

Thomson Abogados and Associates, Pintor Lorenzo Cooamara, Spain.

David T Duddias - Thompson & Lawyers, Madrid, Spain
These scams and others use similar approaches to unwitting recipients. Please report them to ScamNet so that we can warn other members of the public.