Master Charli Chang's Dragon's Egg Miracle Maker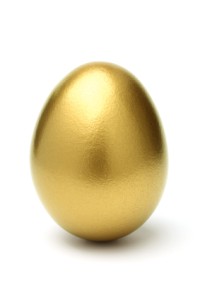 Master Charli Chang (of Geneva) says:
"I have been asked to offer you, free of charge, not risking a single penny, the greatest scientific and magical discovery which will be sure to suddenly transport you to a life of luck and wealth."

"Fortune, at the beginning of this new year 2002, is now at your feet. I am offering to remove the veil and force Destiny to offer you the better life you deserve: I could even say 'the good life'. I don't say that lightly. I guarantee it."
But…
"A word of warning, you can only obtain sums containing the figures 6, 9 and 0. That is the force of Yin and Yang." "Example: you can ask for 6,900 or 96,000 …"
To help you obtain unbelievable wealth Master Chang will lend you his Dragon's Egg free for a three week trial. What could be more reasonable than that?
Just send your cheque for $91, discounted on account of a long term trust tariff, to Switzerland for one year's rental and it will not be cashed for 3 weeks just in case you are not happy with the Egg's performance.
We think Master Chang should have the last word:
"I won't hide the fact that I was the first to reap the benefits of the Dragon's Egg and if I tell you all that I have got thanks to this, you will think that it is too good to be true."
It appears renting out dragons' eggs can be a good little earner; but remember, if it looks too good to be true...it probably is!