Global Shipping Services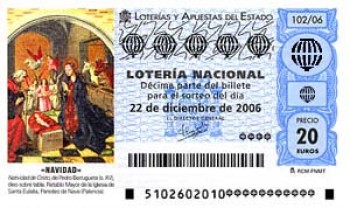 On 20 and 23 April 2004 the United States Postal Inspection Service (USPIS) arrested the principals of a New York company for money-laundering and conspiracy in connection with the illegal promotion of the El Gordo lottery. This case started with an enquiry from Western Australia and led directly to the creation of WA ScamNet!
In October 2001 a consumer in Western Australia enquired about a letter telling her that Global Shipping Services had $3,000 worth of gifts waiting for her. To obtain the gifts she only had to pay a $20 fee to a local address. The Western Australian Department of Consumer and Employment Protection (now Commerce) visited a local mail processing company and found thousands of letters, mainly from the United Kingdom, containing payments to be sent to America for Global Shipping Services. We notified authorities in other countries and other Australian states who conducted similar visits. Millions of dollars worth of payments around the world were "returned to sender."
Our request to the FBI for assistance led to contact with the US Postal Inspection Service. The USPIS enquiries found that Global Shipping Services was just part of a network of related schemes they were inquiring into with one common link: Ms Robin Hansson of Long Island, NY.
The arrests are the culmination of co-operation between law enforcement agencies in Australia, Canada, New Zealand, the Netherlands, the United Kingdom and the US. The then Western Australian Minister for Consumer and Employment Protection, the Honourable John Kobelke, had this to say: Alleged scams queen busted, 29 April 2004
Our amazing WA ScamNet contributors should recognise some of the following prize-draw and other promotions from upstate New York:
America at 50%

Cassandra St George

Certified Confirmation Center

El Gordo

Gobal Shipping Services

Great Gifts

Hanussen (a psychic)

Security Shipping Services

Universal Dispatch Centre

Universal Holding Center

Universal Holiday Center

Universal Redemption Center

World Wide Winners Search Center

Worldwide Holding & Shipping

Worldwide Sweepstakes Center
Only now can we tell that the information from the Western Australian public about the Global Shipping Services case led directly to:
The FBI and USPIS investigation and subsequent arrests,

The establishment of WA ScamNet in April 2002, and

Establishing formal links to share intelligence with international law enforcement agencies.
Patrick Walker, WA Commissioner for Consumer Protection at the time said, "We used to advise people to not participate, to just throw scam letters in the bin. But then we realised the potential value of collating and analysing that intelligence. Also, we do not believe our responsibilities to consumers end at the borders of Western Australia."