Donna Maria (BPS)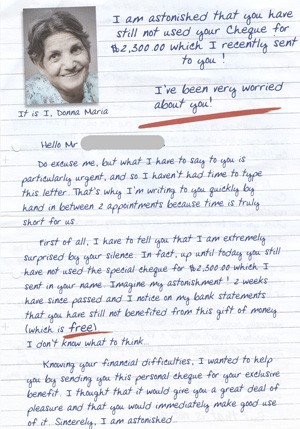 The letter is delivered to your mailbox, hand-written and addressed to you by name. It has a photo of sweet old lady, smiling of course, who has nothing better to do with her money than give it away – and luck has it that you are the chosen one.
She calls herself Donna Maria and asks you why you didn't cash the cheque she had previously sent you for $2,300. "Knowing your financial difficulties, I wanted to help you by sending you this personal cheque for your exclusive benefit," she says in the letter.
The old lady had to cancel that cheque but promises to send you a new one for the same amount with the promise of another cheque for $106,000 as the winner of a lottery. All you have to do is fill out and return an "Urgent Acceptance Certificate" and include a payment of $60 but it must be received within 30 days.
If you read the fine print, the real purpose of the correspondence is to sell you a "Magical Talisman for attracting wealth", which offers a "source of inexhaustible riches".
The reality is you are being sold a worthless trinket for an inflated price and the promised cheques never arrive.
The reply address for the correspondence is PO Box 49, Sprang Capelle in Holland. The same address is used by similar scams under the names of The Big Winners Bureau (BWB) and AMAG (World Administration of Prize Allowances), Amy Palmer and Amanda Kane.
Similar scams have been reported to WA ScamNet using an identical approach where lucky charms are offered for sale:
CORG – Official Prize Awards Centre, offering a "rare and mysterious object"

OCC – Official Claims Centre, also offering a "rare and mysterious object"

Gloria Marques – offering the "secret of colossal fortune"

IWA – International Winners Administration, offering a "precious fragment of the stone of Guangxi"

The European Winners Agency, offering the "secret method to make mountains of money"
Recipients are advised to disregard letters from these "kind-hearted" individuals who are more interested in accumulating their own fortunes at your expense