WA ScamNet has received multiple reports from car-hunters who have enquired about vehicles being 'sold' online, only to find themselves entagled with scammers.
Some supposed sellers (who are actually scammers) advertise vehicles at a very low price via Facebook Marketplace or Gumtree and, when contacted by provide prospective buyers, provide a convoluted backstory about the need for a quick, cheap sale. Through pressure tactics they convince the victims to send money either by bank transfer or via fake websites.
Other scammers advertise non-existent performance and prestige cars on legitimate "for sale" websites but trick victims into believing they're sending money through an independent third party or secure payment system.
Unfortunately, Western Australians have so far lost over $41,000 to these scams.
The ACCC's Scamwatch issued a warning about online car sales scams after reporting Australians lost more than $288,000 to vehicle scams in the first quarter of 2021, more than all losses reported to Scamwatch in 2019.
How the "convoluted story behind quick, cheap sales" scam works:
Victims searching for cars online via classified sites such as Facebook Marketplace and Gumtree find a post advertising a second-hand vehicle at a very low price, which entices them to reach out to the supposed seller.
After messaging the 'seller' (who is actually a scammer) via the platform, the victim is asked to communicate via email, whereby they're spun a story - either flight sergeant or divorce - behind the cheap car sale.
The scammer pressures the buyer, stating they are in the army and about to be deployed.
The next steps vary, depending on the backstory:
Flight sergeant story
Divorce story
The scammer insists the buyer will need to organise and pay for delivery of the vehicle and sends fake eBay Motors/eBay Buyer Protection emails which state that the money will be refunded if they are not happy with it.
The victim pays the money via bank transfer, but never receives the car. Because funds were paid via bank transfer without any involvement from eBay, the victim is unlikely to be able to retrieve their money.
WA ScamNet is aware that these email addresses of Facebook profiles have been used in scams of this type (in alphabetical order):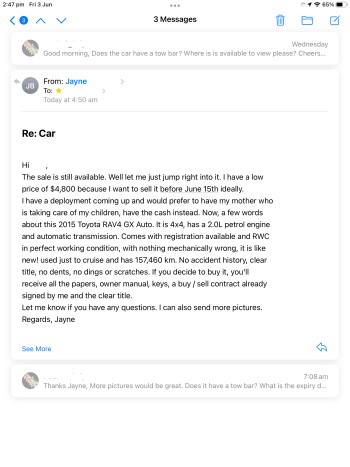 Email
Facebook
Audrey Cooper - Facebook
Jayne Baldwin - Facebook
How the "performance and prestige cars" scam works:
Car enthusiasts are falling victim to professional conmen advertising non-existent performance and prestige cars on legitimate "for sale" websites.
Some overseas scammers are masquerading as locals by hijacking other people's profiles and/or advertisements. Often the fake advertisement is paid for with a stolen credit card.
These professional conmen target car enthusiasts who are looking for particular makes and models of cars, sometimes using a bargain price as bait.
Victims are tricked into believing they're sending money through an independent third party or secure payment system.
One consumer recognised that it was a scam and ceased contact, but continued to receive emails that appeared to be from the legitimate website, asking him to transfer the money, without seeing the car or checking it on the PPSR (Personal Property Securities Register).
WA ScamNet has received other complaints from consumers who saw through the ruse before handing over their money. Three vehicles advertised on different websites even had the same number plate!
How to protect yourself:
Never hand over personal information to people you do not know.
Be suspicious if the seller only wants payment via bank transfer – use payment methods that offer some protections like credit card or PayPal.
Check emails for authenticity – if the email is claiming to come from eBay, go to eBay directly and confirm that the email is legitimate.
If the price sounds too good to be true, it usually is.
Check pictures used in the advertisement aren't taken from other listings and/or websites (conduct a Google image search).
Perform a Personal Property Securities Register (PPSR) search on the vehicle.
If you have paid money, contact your financial institution ASAP.
If you handed over personal information, contact ID Care on 1800 595 160.