Email scam examples
WA ScamNet's aiming to make life harder for scammers.
While many of us simply hit delete when we get emails from fraudsters and consider it as spam, some members of the community can be susceptible to these sorts of offers.
These people may have a disability; be elderly; be inexperienced in the world of computers and the internet; be struggling financially or distracted by something else happening in their life when responding.
Instead of being scathing about the people who are caught out by organised criminals, we want to disrupt the scammers to make it more difficult for them to connect with potential victims.
That's why we ask for suspicious emails to be forwarded to consumer@dmirs.wa.gov.au and if they are a scam we'll report the email addresses to the email service providers to get the email accounts closed down.
These are baby steps in what is a widespread problem but even if one person is prevented from initiating contact with these organised criminals because we had the email account shut down, then it's worth it.
Awareness-raising is a key part of WA ScamNet so what we'll be doing is posting examples of these emails on this page to make familiar with the templates used by the fraudsters..
AirBNB Scam email
ATO scam email
The following scam email purports to be from the Australian Tax Office, but is a phishing attempt.
Australia Post eParcel email
Click image to view larger
Beneficiary fraud scam email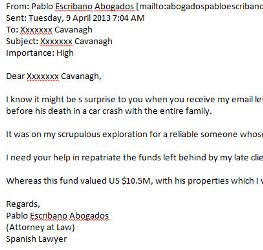 Click image to view larger
Bogus Ticketmaster Scam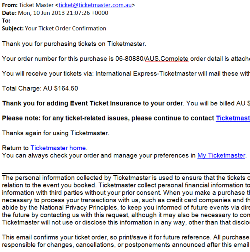 Click image to view larger
Energy scam email
This email is a phishing scam and clicking the link might install malware (malicious software).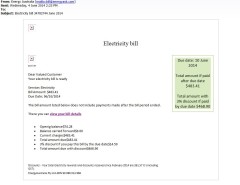 Signs it's a scam: the spelling error – Openig and also the mailto address.
Don't be duped by the true Energy Australia ABN. Scammers often steal this info from the real website, which is what they have done in this case.
Energy Bill scams were named scam of the month by the ACCC in May and there is some useful advice at the following websites:
http://www.accc.gov.au/media-release/dont-pay-a-scammer-for-a-fake-energy-bill
https://www.accc.gov.au/about-us/tools-resources/social-media/transcripts/scamwatch-scam-of-the-month-warning-energy-bills-transcript
Gumtree car buyers scam
Car sellers on Gumtree are the latest targets for scammers. Here's the type of email you can expect from scammers pretending to be potential buyers.

Impersonation fraud
US Army warns of soldiers images being used in fraudulent relationship scams.
Nigerian beneficiary fraud scam email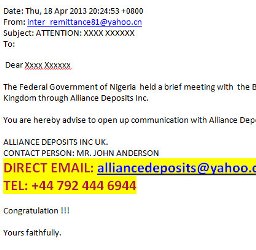 Click image to view larger
NSW State Debt Recovery office scam
Quite a sophisticated email scam purporting to be NSW State Debt Recovery Office (SDRO). The link takes you to a webpage to try to trick you in to downloading Malware, which from reports appears to be Cryptolocker. A scam alert has been issued by NSW SDRO.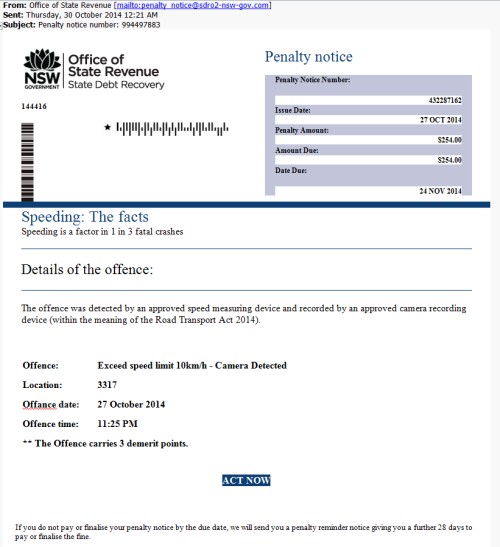 Red Cross email scam
This email appears to come from the Red Cross seeking aid for typhoon victims but WA ScamNet has ascertained that it is not authentic.

Romance fraud scam emails
Sample 1:
Click image to view larger
Sample 2: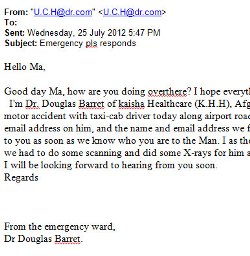 Click image to view larger
Telstra email scam
This email looks like a legitimate bill but the zip file (ZIP TRPB_1_6075253244.zip) will install malware onto your computer.
Westpac eStatement email scam
This email looks like it comes from Westpac bank telling you your latest statement is available but the link takes you to a fake website.