Western Australians lose $10.9 million to heartless romance scammers
Thursday, 15 January 2015
In 2014, Western Australians lost at least $30,000 a day to romance fraud, according to the latest scam figures released by Consumer Protection.
In the last 12 months 164 victims of romance fraud reported losing a total of $10,893,901 – that's an average loss of $66,000 per victim. In addition to reported losses there are believed to be many more victims not identified and recorded in the WA ScamNet database.
The 2014 figures are similar to 2013 when 170 romance fraud victims reported a total monetary loss of $10,062,618.
Detective Senior Sergeant Steve Potter from WA Police Major Fraud says while the statistics remain consistent, without Project Sunbird – a joint anti-fraud initiative with Consumer Protection – the numbers would likely be considerably higher.
"Project Sunbird identifies victims of romance or investment fraud through financial intelligence data that shows those people are sending money to organised criminals in West Africa.
"More than 2,000 letters have been sent out since 2013 and every month more are sent. The first letter addressed to the Householder leads to about six of out 10 victims ceasing to send money. Those who continue sending receive a second personalised letter and of that group about 40% stop sending funds.
"Without this letter initiative along with follow-up phone calls and one-to-one sessions with those involved, these people would continue to be victims and any new victims would be in addition to these people rather than taking their place in the system."
DSS Potter said catching the culprits remains a priority for his team.
"Our work with Nigeria's Economic and Financial Crimes Commission continues to try to bring offenders in West Africa to justice. However, we know there are romance fraudsters operating out of other countries such as China, Turkey and Malaysia and this represents a big challenge for Australian-based law enforcement agencies. What further complicates the issue is that we find that money is being laundered through the accounts of Australians who are romance or investment fraud victims."
To coincide with the release of the staggering statistics, one brave Perth romance fraud victim is speaking out to warn others.
70-year-old Janet lost a five figure sum over five months in 2014 after scammers contacted her via a dating website and pretended to be an engineer called Richard McCarthy who lived in Australia but worked in Kuala Lumpur.
"He asked me to come off the dating website because he was serious about me and he sent me a lengthy email outlining his values, which were similar to mine. He sent me lots of photos and looked like a nice man. When we spoke on the phone or Skype I found him fascinating to talk to."
"When he was working in Kuala Lumpur he said he had lost his credit card and needed a loan. He began to encounter problems during his engineering contract and would send photos of the work going on. He needed money for parts and asked for it to be put into his Malaysian business account but always promised he would pay it back and even put that in writing."
"I began to get suspicious when we could never meet in person despite him travelling through Perth. I went to the airport to meet him once and he wasn't there.
"A friend who is IT savvy did a Google image search of the photos and revealed it was not Richard McCarthy and that's when I knew it was a scam. I felt betrayed and emotionally abused and I still struggle to get my head round how somebody could be so wicked. Financially it's been a disaster but the betrayal of trust is worse."
Hear Janet's story:
Part two and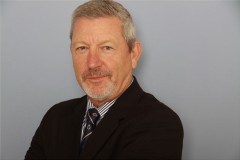 The scammers had used stolen photos belonging to an actor and musician from New South Wales called Clive Hodson. Both Janet and WA ScamNet alerted Mr Hodson to this.
"It is terrible and I feel really bad for the lady even though I wasn't aware. The fact that somebody can hide behind my photographs is very disturbing," he said.
"Due to my profession I have a lot of photos on the internet and I have had to have several fake social media profiles shut down. I have also had to make my friends and family aware that my identity has been used to perpetrate crime, which is quite upsetting."
Hear Clive.
Romance scam prevention tips:
When using a dating website don't take communication off the site
Ignore friend requests from strangers on Facebook
Do an internet search of the name – put words like 'romance scam' at the end
Google Image search the photograph(s)
Talk to trusted family or friends for a second opinion – scammers will try to isolate you
Never send money to someone you met online
Help or more information
If you have sent money or are thinking about sending money to someone you have met online and wish to talk to a Project Sunbird officer, call 1300 30 40 54.
See our fight back pages.
See Minister's announcement: "Love bites, love bleeds $11m from West Aussies"